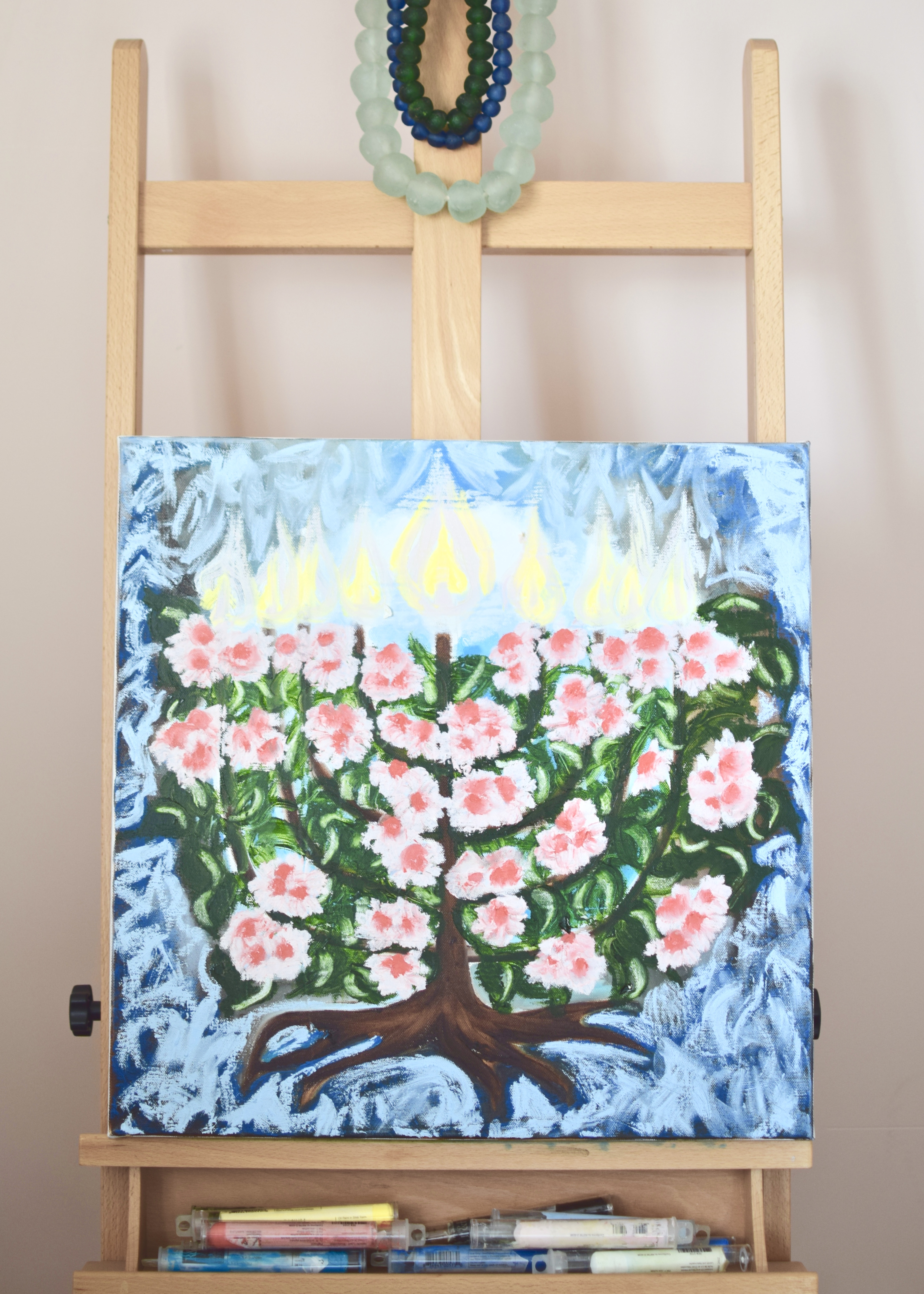 18X18 oil on canvas
Art Inspo
Over the holidays I was inspired to create this concept of the menorah. I visualized a menorah shaped as a tree who's roots go deep into the earth just as our own light is rooted in the scriptures. I visualized a green flowering tree that feeds off of living water and blossoms into a beautiful light that none can extiguish.
As I was listening to the weekly torah portion(torah portion is simply a portion of the first five books of Moses in sequence) on my iPhone days later, I learned that the biblical location named Bethel was actually formerly called Luz. The word Luz in spanish means light but in hebrew it means almond tree.
The almond tree is a recurring theme in the bible and many biblical scholar's have considered the rod of Abraham to have been from a flowering almond tree. Soemthing else I didn't know before listening to the torah portion is that many Jewish scholars also believed that the menorah was a representaion of the tree of life at the garden of eden. Incidently the tree of life is also thought to have been a blossoming almond tree.
How approriate that I would hear this just days after being inspired to depict the menorah as a blossoming tree! Heres a few things the word has to say about light.
For the commandment is a lamp
And the law is light
And reproofs of instruction are the way of life - Proverb 6:23
I am the light of the world
He that followeth me shall not walk in darkness, but shall have the light of life - John 8:12
Do not be deceived, my beloved brothers. Every good gift and every perfect gift is from above, coming down from the Father of lights, with whom there is no variation or shadow due to change...But be doers of the word, and not hearers only, deceiving yourselves. For if anyone is a hearer of the word and not a doer, he is like a man who looks intently at his natural face in a mirror. For he looks at himself and goes away and at once forgets what he was like. But the one who looks into the perfect law, the law of liberty, and perseveres, being no hearer who forgets but a doer who acts, he will be blessed in his doing - James 1:16-27
Have you ever seen a blossoming almond tree? Let your light blossom in 2018!