So let me lay it all down for you cruise hopeful mamas and dadas. Take a deep breath and exhale all your worries away because it turns out cruising with our three year old was absolutely fantastic with wait for it...even a few moments of RELAXATION. What?! That's right and you can have a memorable cruising experience too, relaxation included, if you follow these travel worthy tips from our little family experience.
Prepare Six-Eight Months Ahead
When you decide to plan a family cruise, it's important to plan a few things well ahead of time. I researched the best cruise options for a family friendly adventure and looked at flights. We went with a short three night Bahamas cruise and saw it as a great trial size opportunity to travel with our three year old. This meant booking three flights to Orlando, FL which are not cheap. Luckily, I had saved up points from our Egypt travels in 2015 and we actually all flew 100% on rewards points except for 30.00 dollars of flight fees on American Airlines. This is not made up guys. Three tickets to Orlando, Florida from Phoenix roundtrip typically costs around 400-600 dollars per person. If you like to travel and you have a lot of expenses, investing in a good rewards card and taking advantage of airline miles should be on your list of to-dos. Keep in mind that rewards flights book up 6-12 months ahead of time so planning ahead is a must if you want to save money. Another thing you always want to get out of the way months ahead of time is your child's passport or passport card.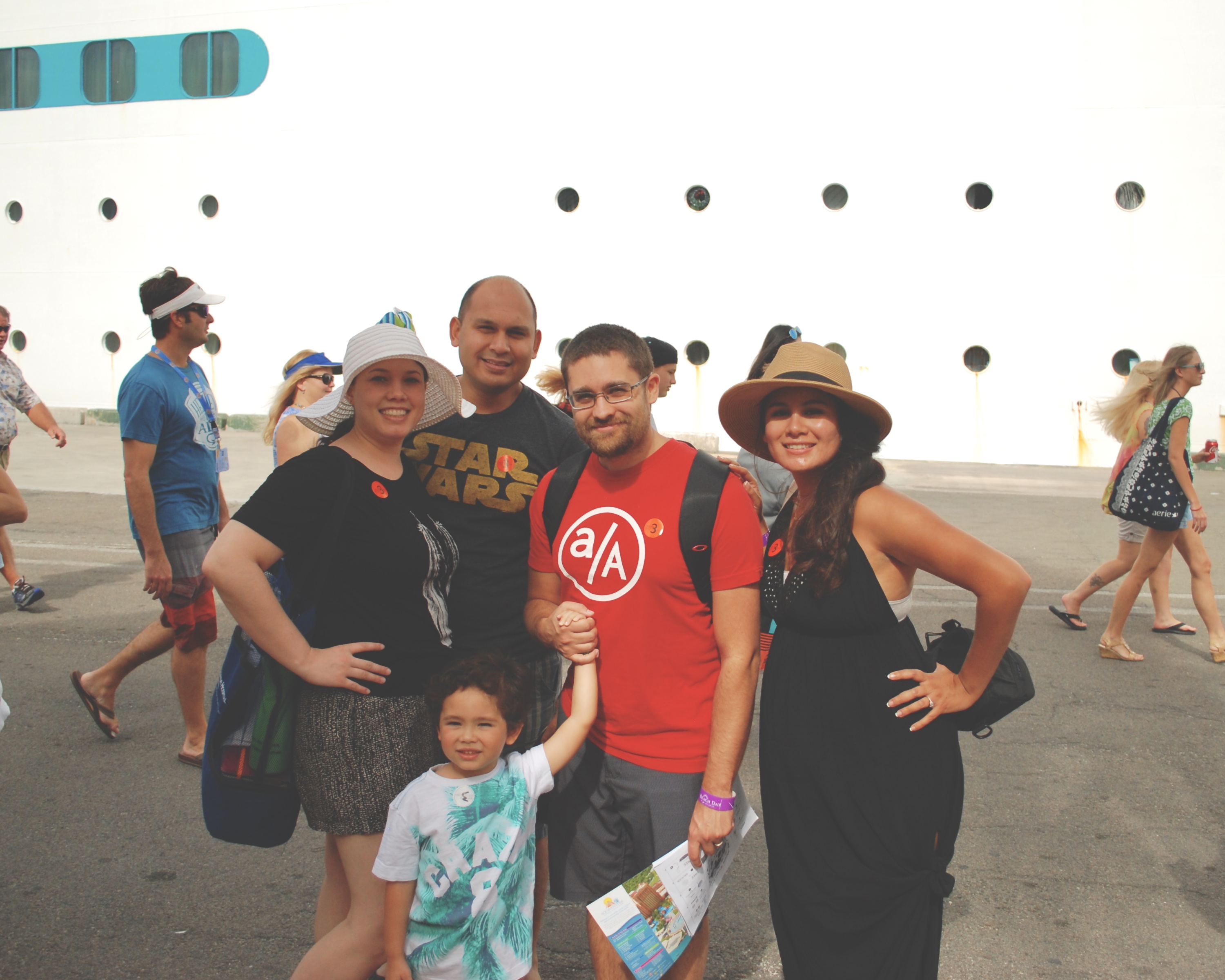 Establish Achievable Expectations
The Mr. & I took a beautiful honeymoon cruise to the Mexican riviera together before we ever had little V on our minds. As senior cruisers, we knew that our three night Bahamas cruise was going to be night and day different. This meant that our expectations of what a vacation should be would also need to change. Here's a few examples of achievable expectations for a cruise vacation with a three year old.
Expect to enjoy your cruise instead of relaxing in a sea of leisurely strolls. As much as we love the idea of a relaxing vacation, it's a bit hard to relax around kids. What you think is relaxing, is not exactly relaxing for them. They wake up each morning with an unbridleled and clear purpose to discover and enjoy the day. We chose to enjoy a new place and a new adventure with our little one over massages and leisurely walks. That's OK.
Expect to have fun within a semi-fixed schedule. Our child does best when he eats and sleeps at around the same time everyday. We knew going in that we would try our very best to meet his meal times and bed times as accurately as possible throughout the trip. As adults we can pretty much keep it together if we skip a few meals or stay up late here and there. Sleeping in is not exactly an option when traveling with a three year old and their hangry is not something anyone wants to be around for. Hehe.
Expect some things not to go according to plan and be ready with plan B or C. With a child, or even without one, things sometimes just don't go according to plan. You can't control or prepare for all external situations but you'll thank your self for thinking of alternate plans. On both of my cruising experiences, one or two ports of call were completely cancelled with less than 24 hours notice. The weather can also be unpredictable at sea and some ships rock more than others. It doesn't hurt to think of these things before hand and it will give you more control over your attitude towards unforeseen events, which brings me to my next point.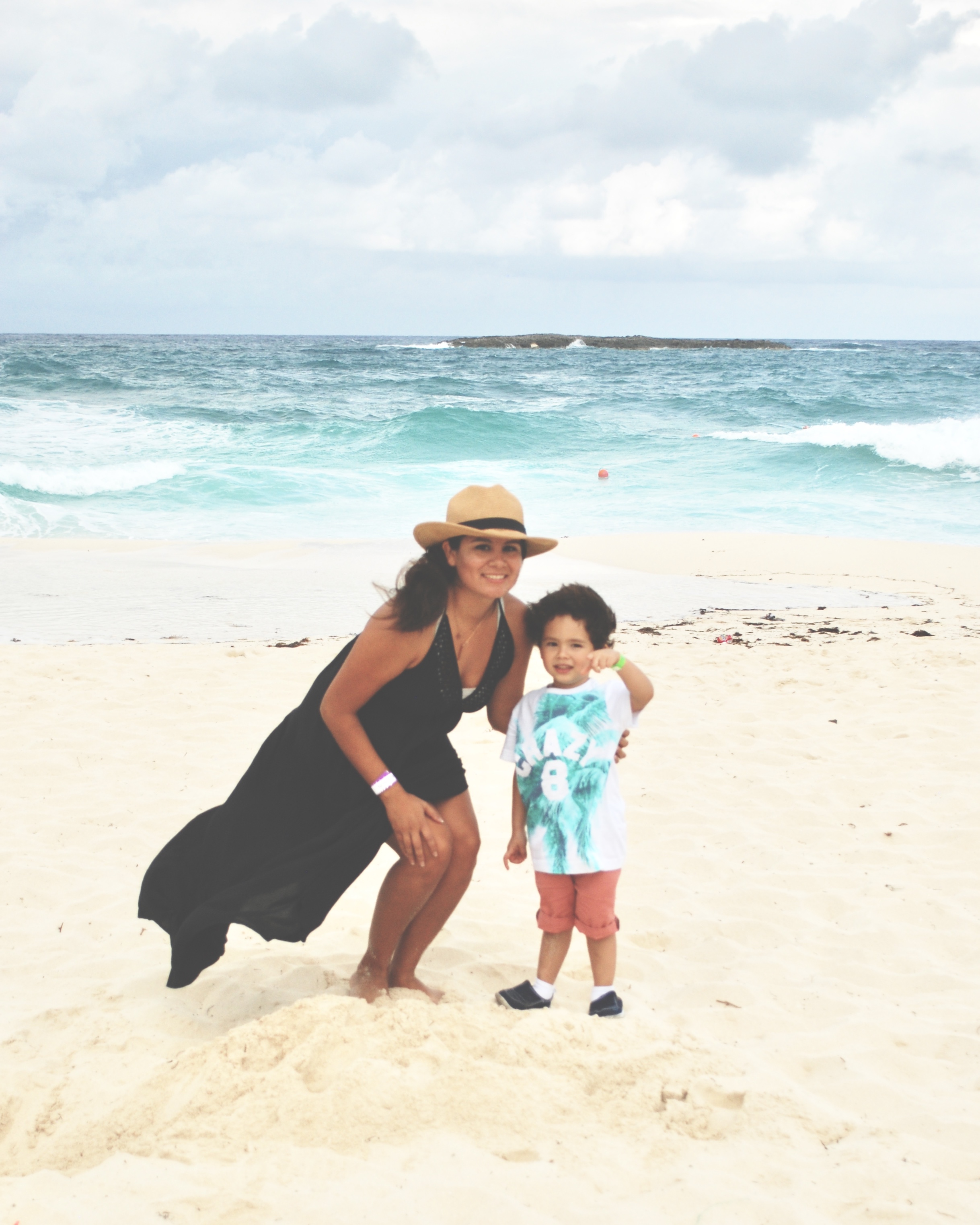 Attitude is E-V-E-R-Y-T-H-I-N-G
Traveling for any purpose can easily become a very stressful event for easily stressed people like me. I'm the type that is always running late or having to turn back around because I forgot some very important item while walking out the door. This is why I packed our three year old's bags two weeks ahead and my own bags one week ahead! Yes, you read that correctly and it was so worth it.
Having a low stress, confident and challenge ready attitude is a must have for all traveling parents.
If you have to pack your things a month ahead of time to achieve this state of mind, do it! When you compare the small amount of work that it will take to ensure a positive attitude on your trip to the disastrous mess your traveling experience can easily become if you don't, the answer should be a resounding DO IT! The last thing I want to be on a family trip is that parent, yes you know which one. The one whose toddler is screaming at the top of their lungs and throwing things and just an all around nightmare. I can promise you that parent is anything but confident, challenge ready or low stress in that moment. It can and does happen to the best of us. Kids have a sixth sense of knowing when you are not at your A game, they will sense it and they will ruin your vacation if you let them. Or you can take control of your vacation by adjusting your attitude and choosing confidence & positivity. Try it and make sure hubby is in on it too.
At Sea
We sailed Royal Carribean for the specific reason that it seemed like a better choice than carnival. This wasn't exactly the case. Our carnival ship was much nicer than Royal. However, the service was just as good and we made the best of it. We traveled with great friends whom we adore and are practically like family so it was nice knowing people at the dinner table every night. A few cruise worthy pointers I'd like to point out.
We had breakfast around nine at the buffet one morning but other mornings we preferred the sit down breakfast with our friends. It was more quiet and enjoyable. The food and service were also better I think.

Dinner was at six o' clock every evening and even the little one enjoyed a three course meal. He especially liked choosing his desert every night. He got to bring some entertainment to the dinner table of his choice like a tablet or his magnetic cars.

We booked one family friendly excursion to Atlantis. He loved playing on the beach with sand toys. Sand toys and snacks were easily accessible at near by gift shops. We ate Lunch at the shell looking restaurant and afterwards we walked through the resort's aquarium and grounds. Perfect day out.

Unfortunately our last port of call to Coco Cay had to be canceled due to abnormally stormy and rainy weather. On that day we took V to the Adventure Ocean and dropped him off with some nice ladies who really enjoyed his stay. He had a bit of a wee accident while there, so he got a pair of Royal Carribean shorts for free out of it.

Embarkation and disembarking were a bit of a challenge with the little one due to long lines but we kept highlighting the big ship and since it was all new to him he did just fine.

Having friends come along I think really helped keep V entertained and excited throughout the whole trip. By friends I mean our adult friends. He absolutely loved them.
We will definitely be taking V on another cruising adventure sometime. I think we may stick to the pacific coast this time since the weather was a little bit scary on our Caribbean cruise. If we ever do the caribbean again, I would choose to fly in possibly over a cruise. What cruising tips do you have for others? Are you brave enough to take your kids? Linked up on Tuesday Talk+Women With Intention.