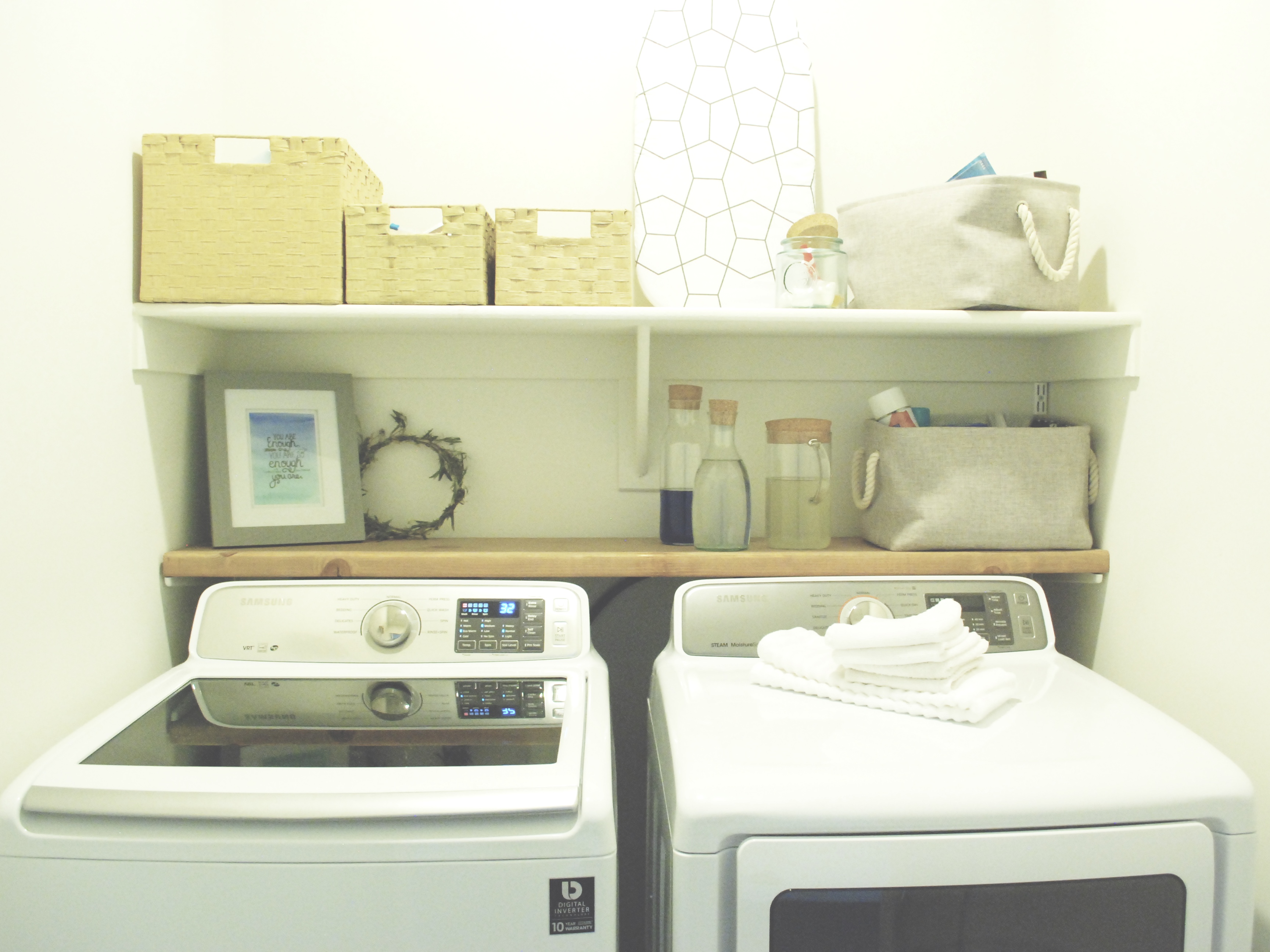 Loads of Laundry Issues
We had an almost nonexistant honeymoon period as new home owners. Shortly after we moved in, we detected a leak in the laundry room wall that ended up being a huge ordeal to repair. Two walls in the laundry room had to be completely replaced and there was additional damage in the adjacent guest bed and garage walls. eek! After many weeks of back and forth between contractors, plumbers and our insurance, we finally had our laundry room problems solved. I have never been so happy to do a load of laundry!
This is our new laundry room that I love, love, love. My favorite part of it all is probably the DIY shelf I came up with and placed right above the washer & dryer. I scoured endless ideas on Pinterest for a DIY shelf that would work for me. Originally I wanted to do a three board shelf that wouldn't need to be mounted to the wall but that ended up being too cumbersome for my small laundry room. The Mr. didn't exactly like my shelf idea but he gave me the OK so long as the shelf was completely removable in case we needed to check for another leak issue. What I finally decided on was to drill two Elfa rails to the wall studs behind the washer & dryer. Then I put in two 12" Elfa shelf brackets to hold my shelf at the right height. This allowed me to be able to have a completely removable and height adjustable shelf. Now I can put the laundry essentials on the lower shelf and there's still a bunch of storage space on the top shelf. I ♡ Storage.
Here's what you need for this shelf
Lumber board according to size
Two coats of Golden Oak and two coats of Dark Walnut minwax wood stain.
Two 20" Elfa wall mounted rails
Two 12" Elfa shelf brackets
Elfa wall screws (optional)
Elfa drill bit (optional)