In October, my husband and I came across this stunning modern new build and it was love at first sight. We knew our search had stopped and the beautiful phoenix mountain views from the back yard definitely helped too. We were on our cloud 9 of soon to be first time home owners and parents of 2 lovely boys. Of course, when the worst happened late into my pregnancy, I thought our new home would only remind me of what we had lost. But instead I chose to pour my heart and soul into it. I knew life had to keep going...I knew I had to put one foot in front of the other...I had to have a goal each day...I made lists...I went shopping literally everyday because shopping is better than crying yourself to death. The nursery was supposed to be for 2, but now its only for 1. It's not ok, but life goes on and I am so blessed to have parents, family and friends who PRAY. I wouldn't be here today if they hadn't ♥
Luckily I own my own successful business (no its not blogging or photography) and hubby is a web developer so money was not an issue. Phew! Since I am the boss lady, I took a much needed (huge understatement) leave of absence to do all this and no I couldn't take a leave of absence from being a 24/7 mommy to my 3yr old but we made it work.
Our family room is super open which is great because V can play with his toys in the living room where I can watch. V has way too many toys, but its all good because they are all neatly hidden in those faux wood boxes from target. More toys, trucks and stuffed animals are hidden away in those jute totes from my favorite store the container store. I don't label the toy storage boxes but V knows there is a method to the madness and he puts his toys away when I ask :) Be careful if you put a toy in the wrong box, V will surely let you know!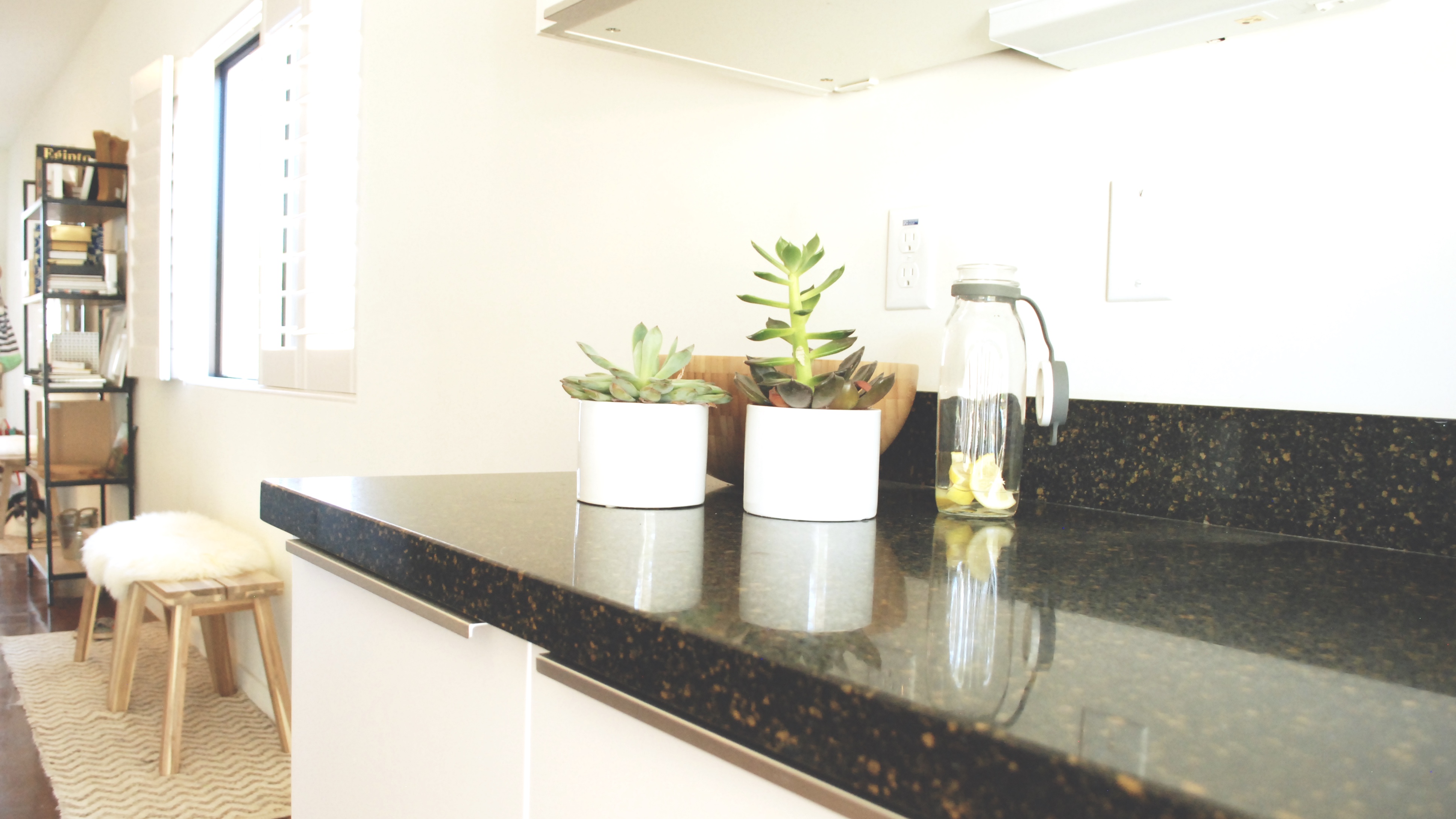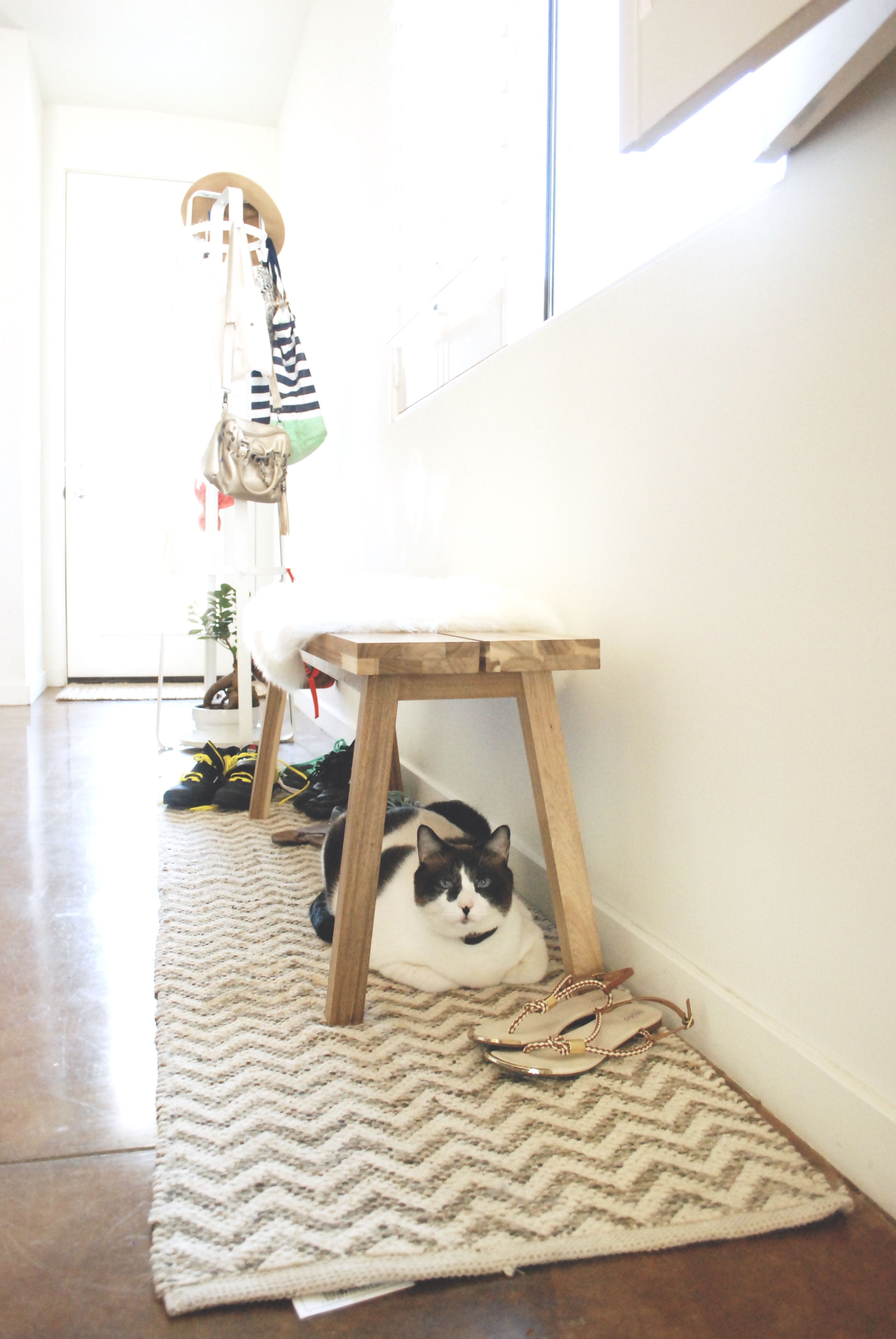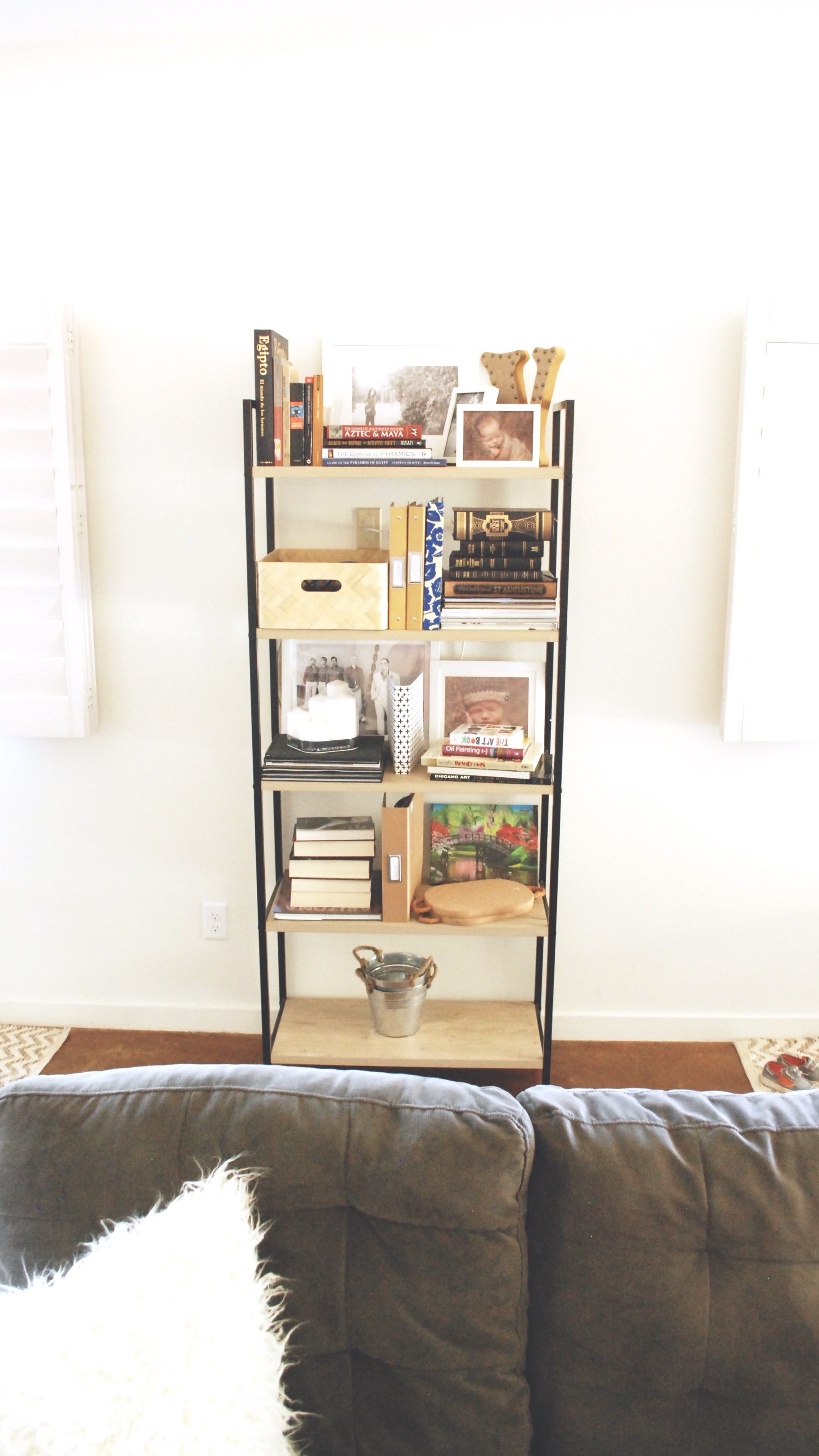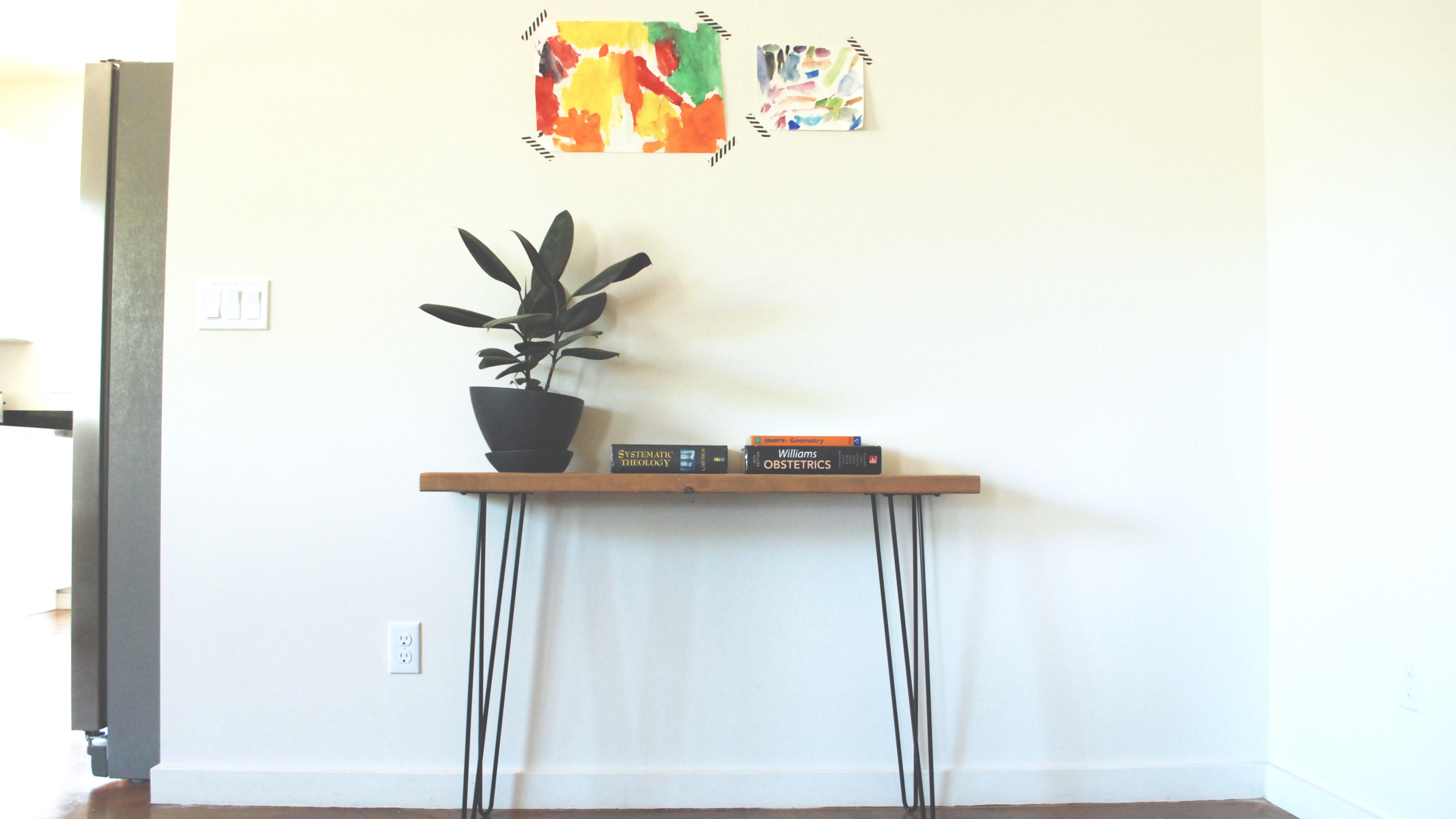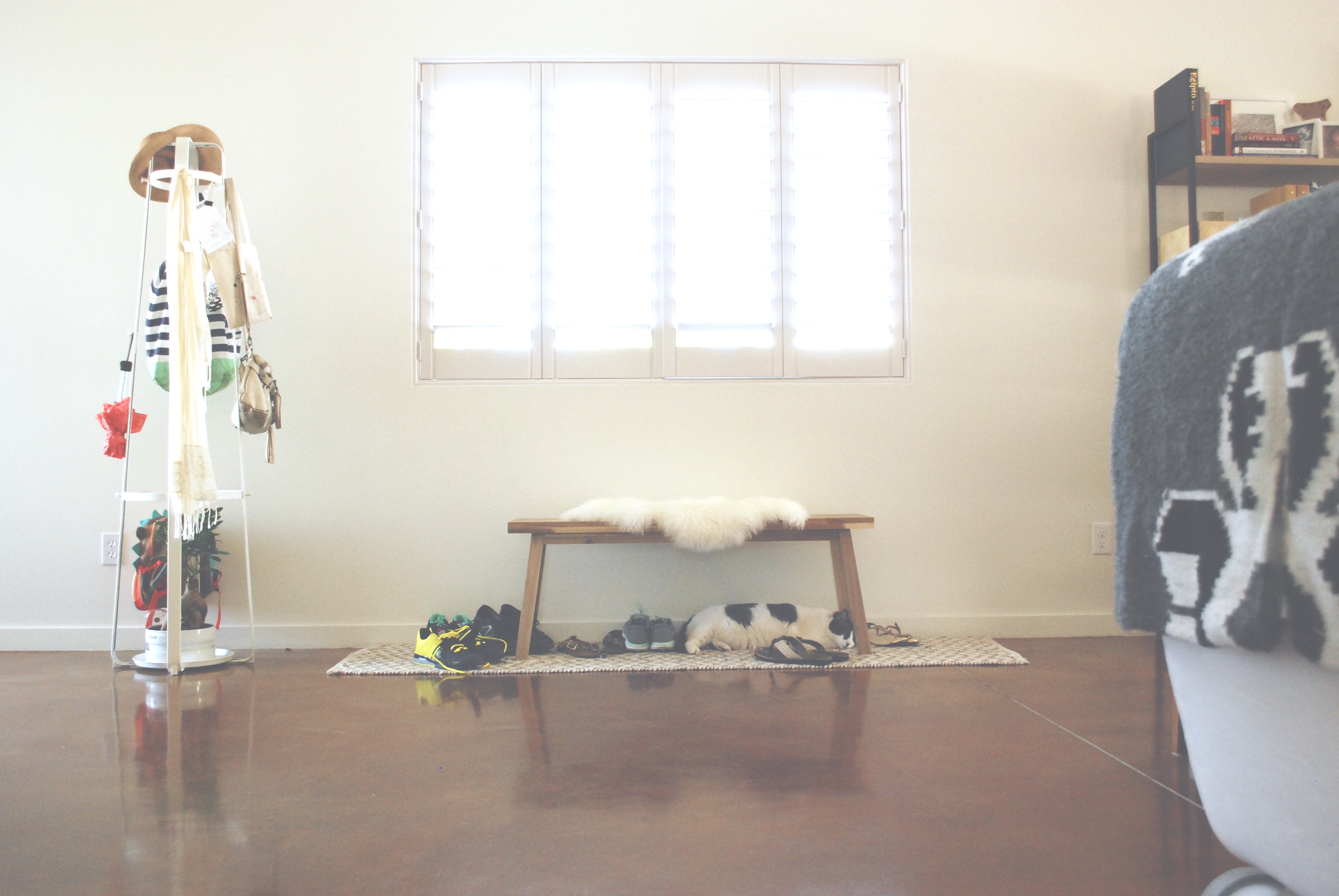 Our entry bench and hall tree is probably my favorite part of the family room. I love coming home and hanging up my stuff on the hall tree. It's also nice when you can find your shoes. Charmy is our cat and he loves a good soft rug to sleep on.
You're probably beginning to notice an ikea trend. Yes, I ♥ ikea. This hairpin table however, you will not find at ikea. I stained a piece of lumber from lowes and put on those legs myself. No, hubby didn't help with this one. He did however claim the table for his books right away. I have to be careful around here because hubby would store his books in the kitchen cabinets if he could! (The beautiful art hanging on the wall is all V)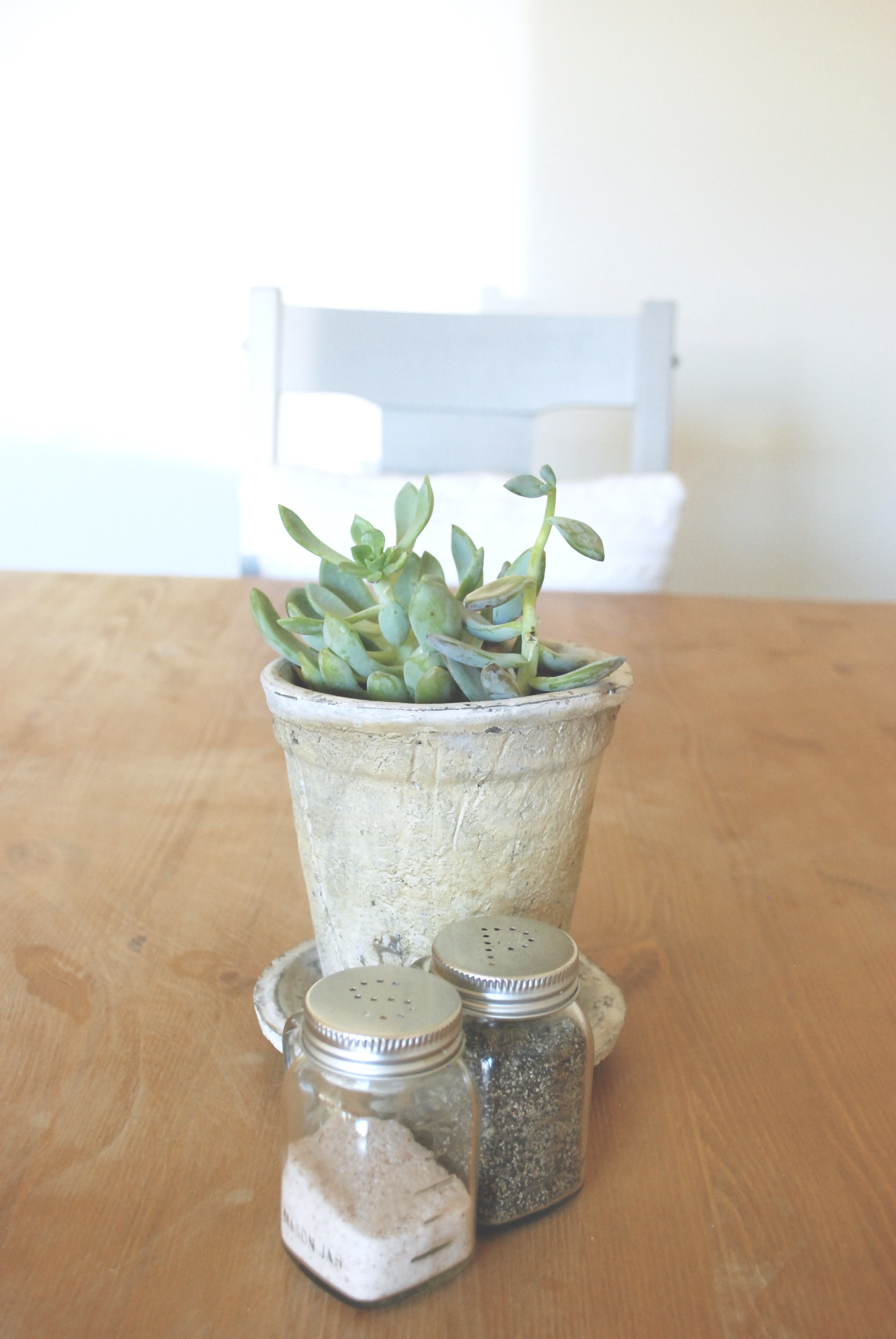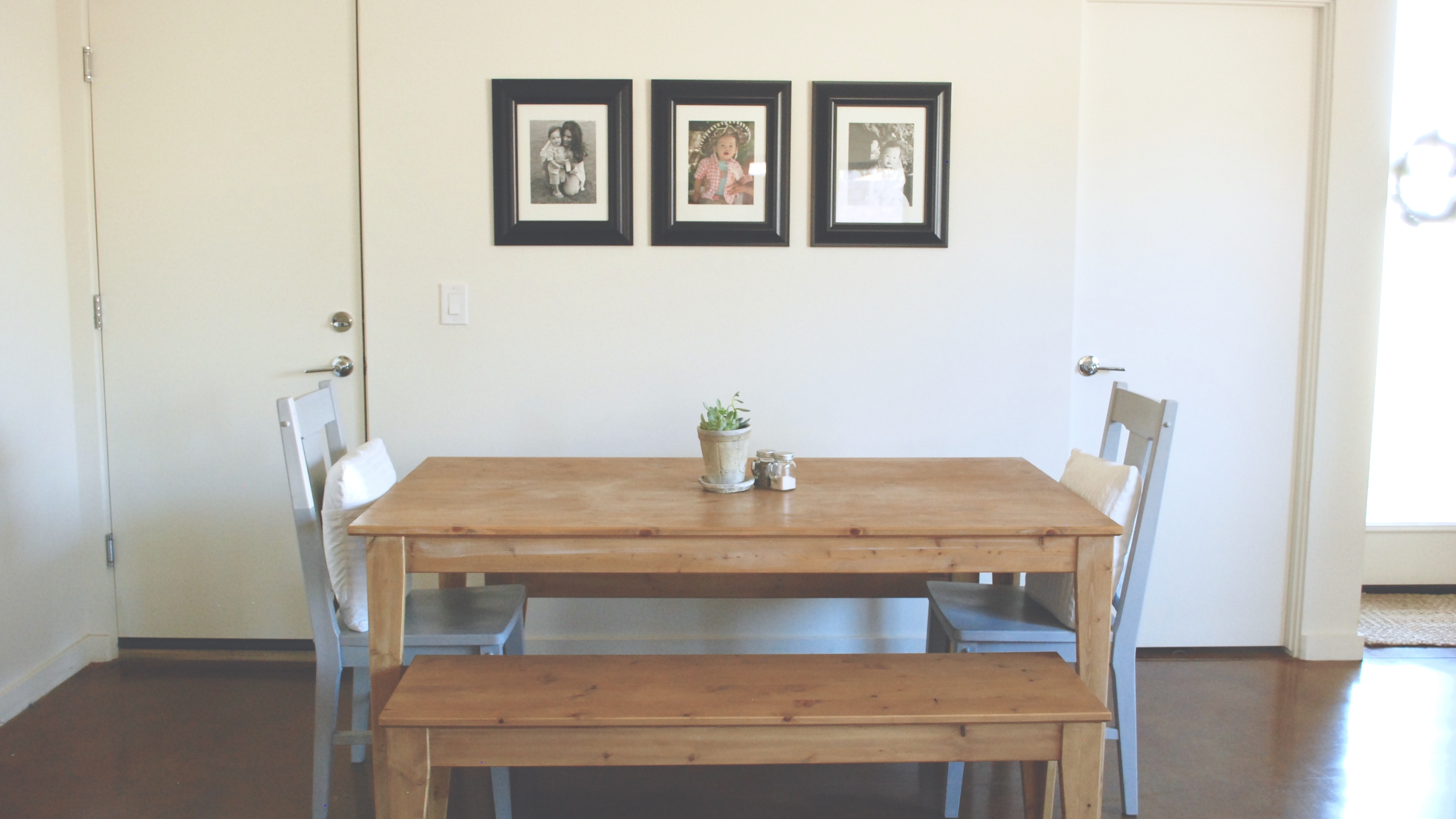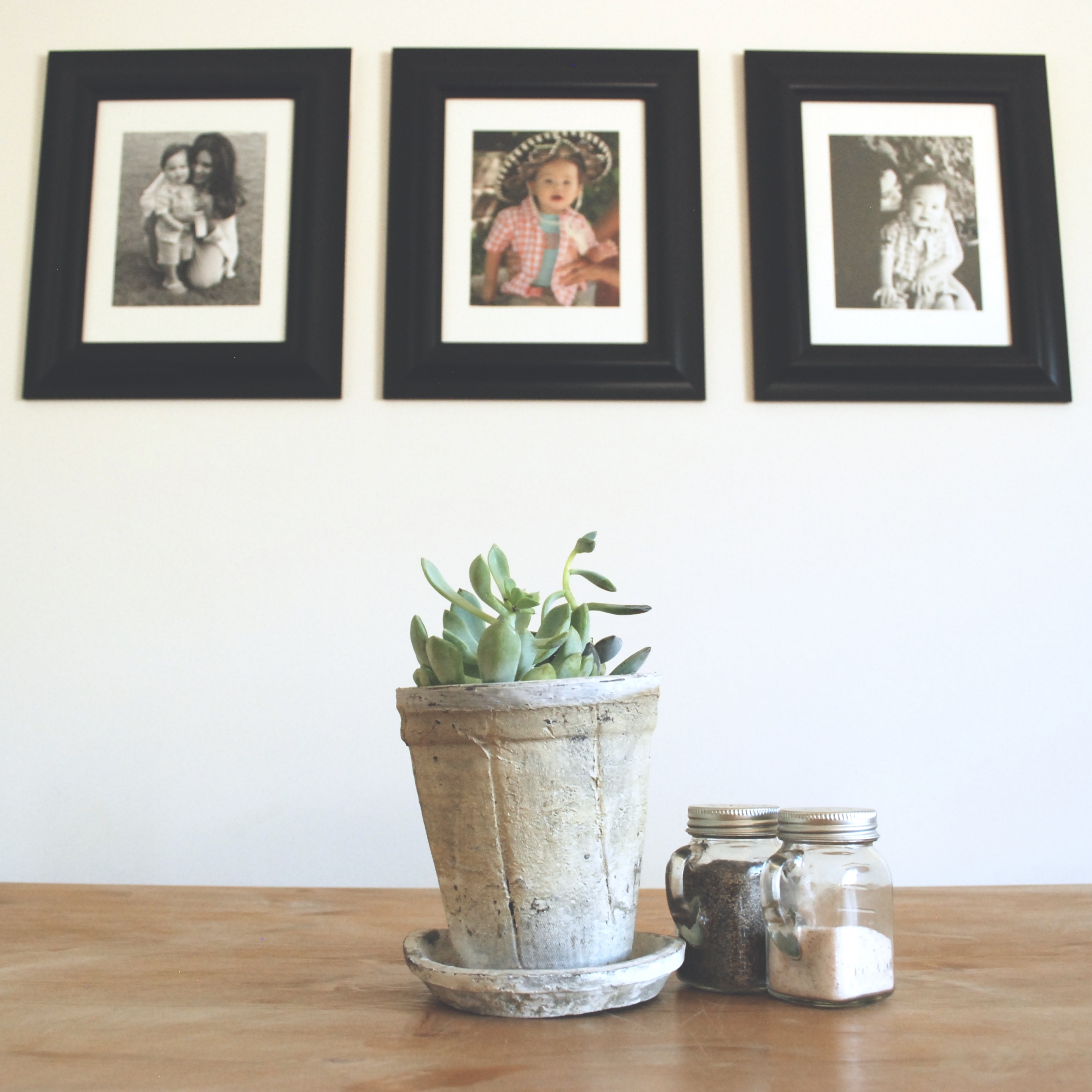 This dining table and benches are also from ikea, but you won't find them in this color. I applied two coats of Golden Oak and two coats of Dark Walnut minwax wood stain. (I applied the same stain colors to the diy hairpin table and the shelf in our laundry room which I will post later). I love how it turned out. The dining chairs were actually a diy project of my mother in law's. This stuff runs in the family I guess.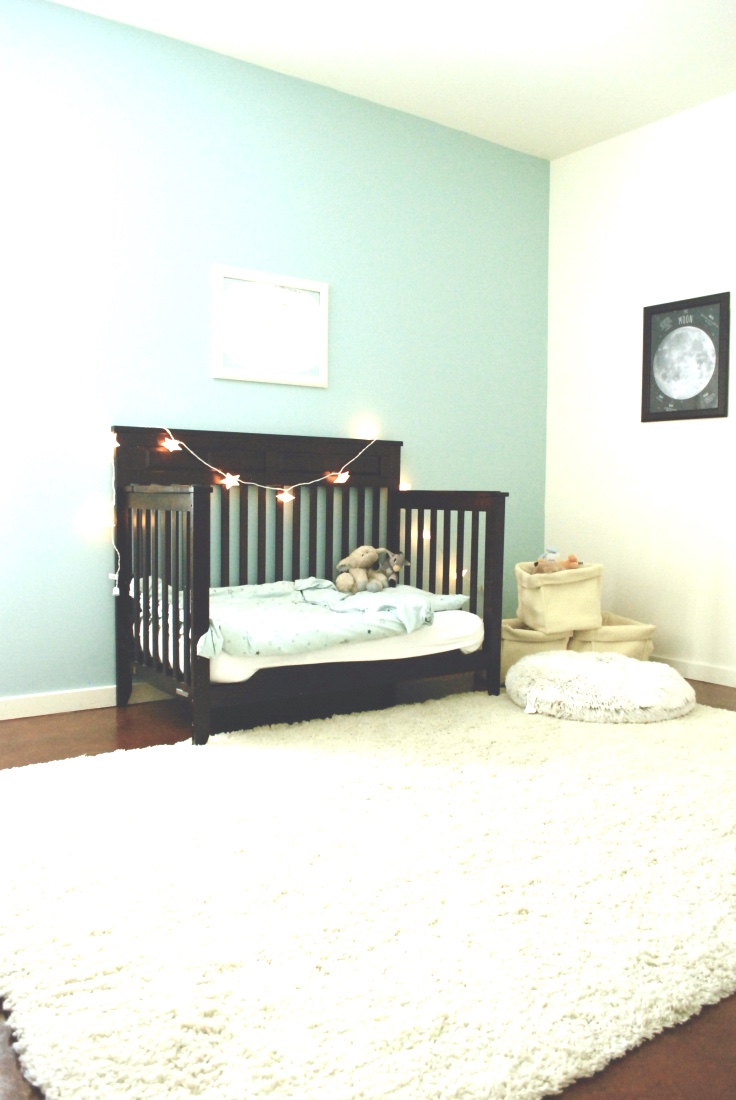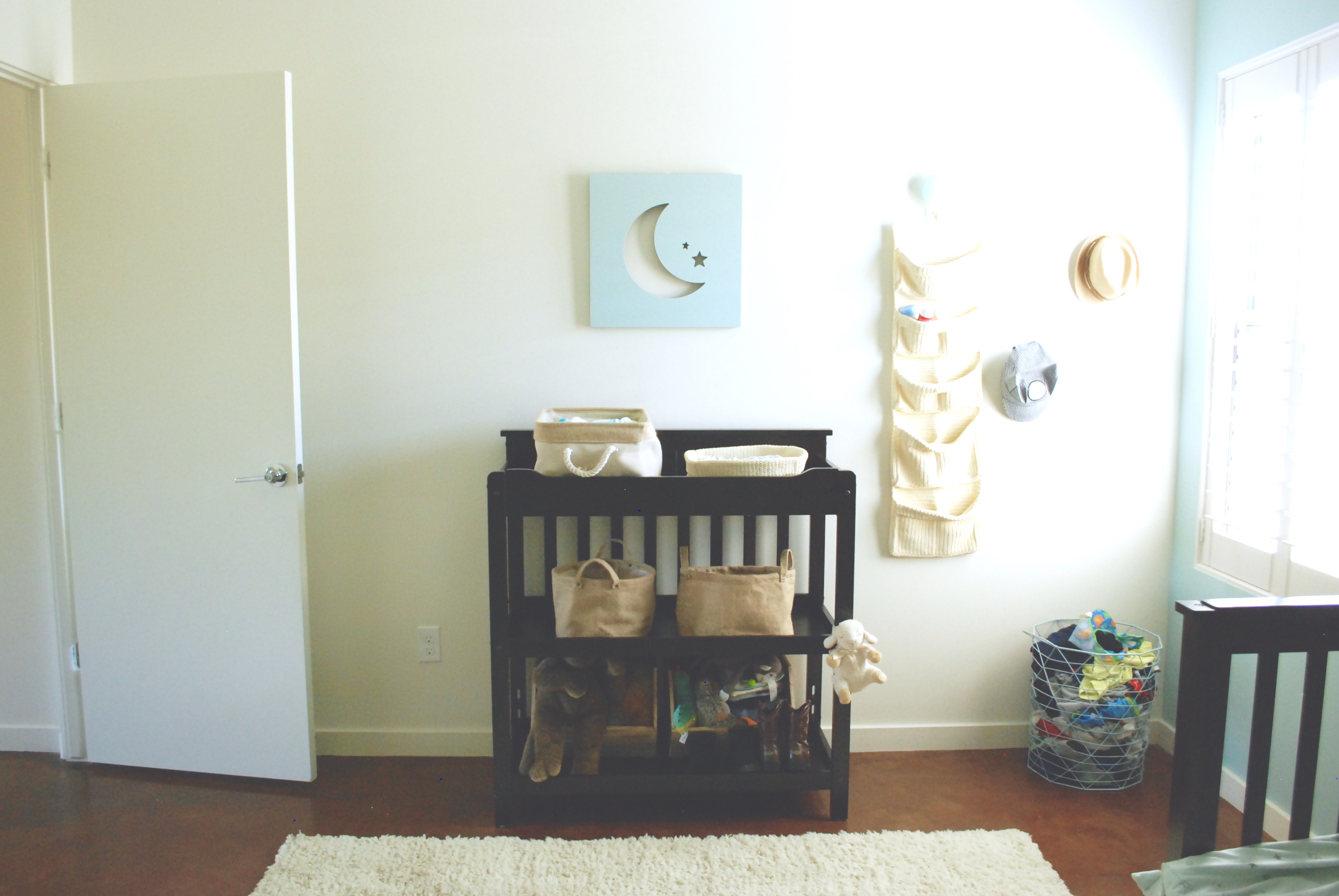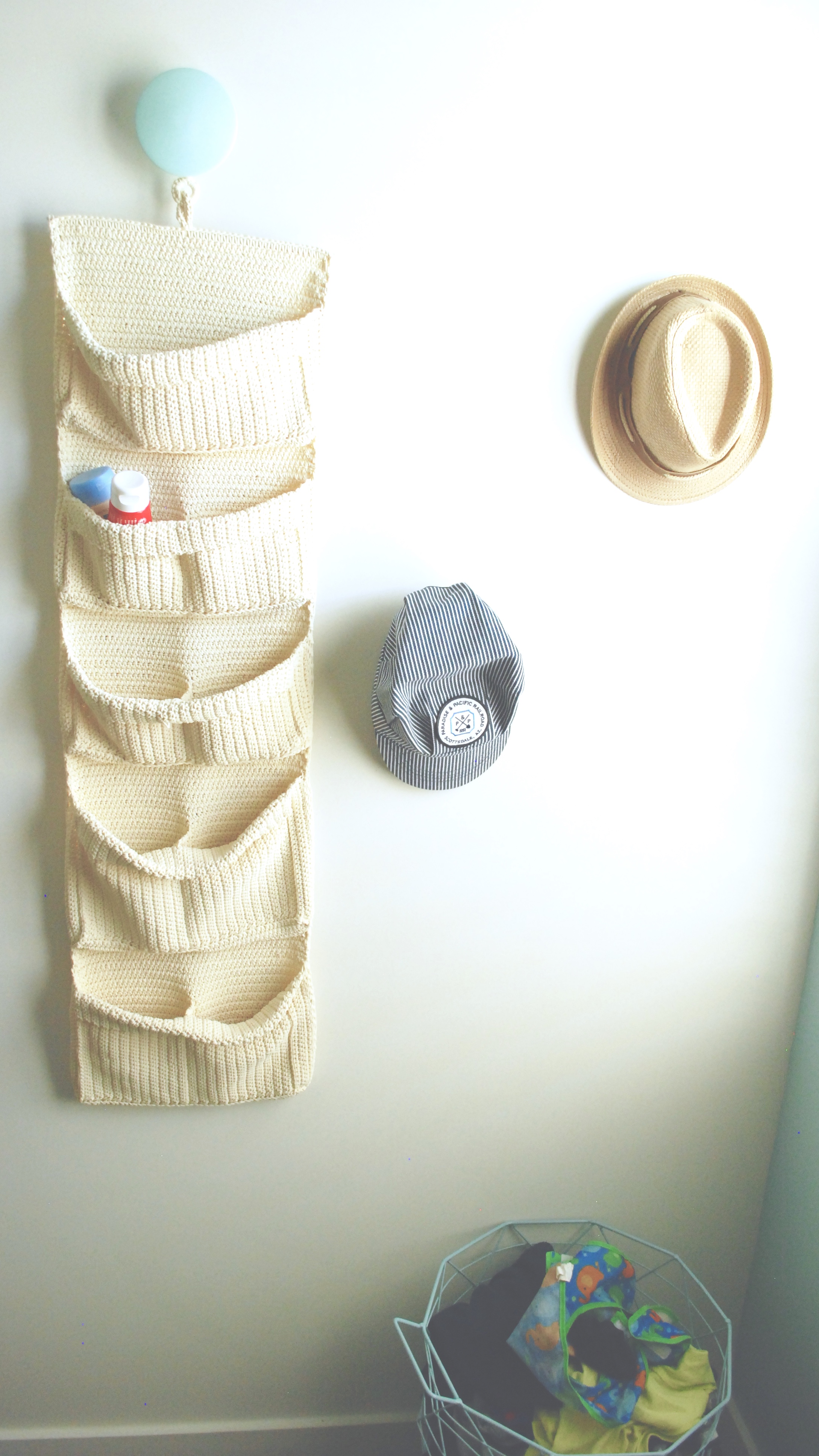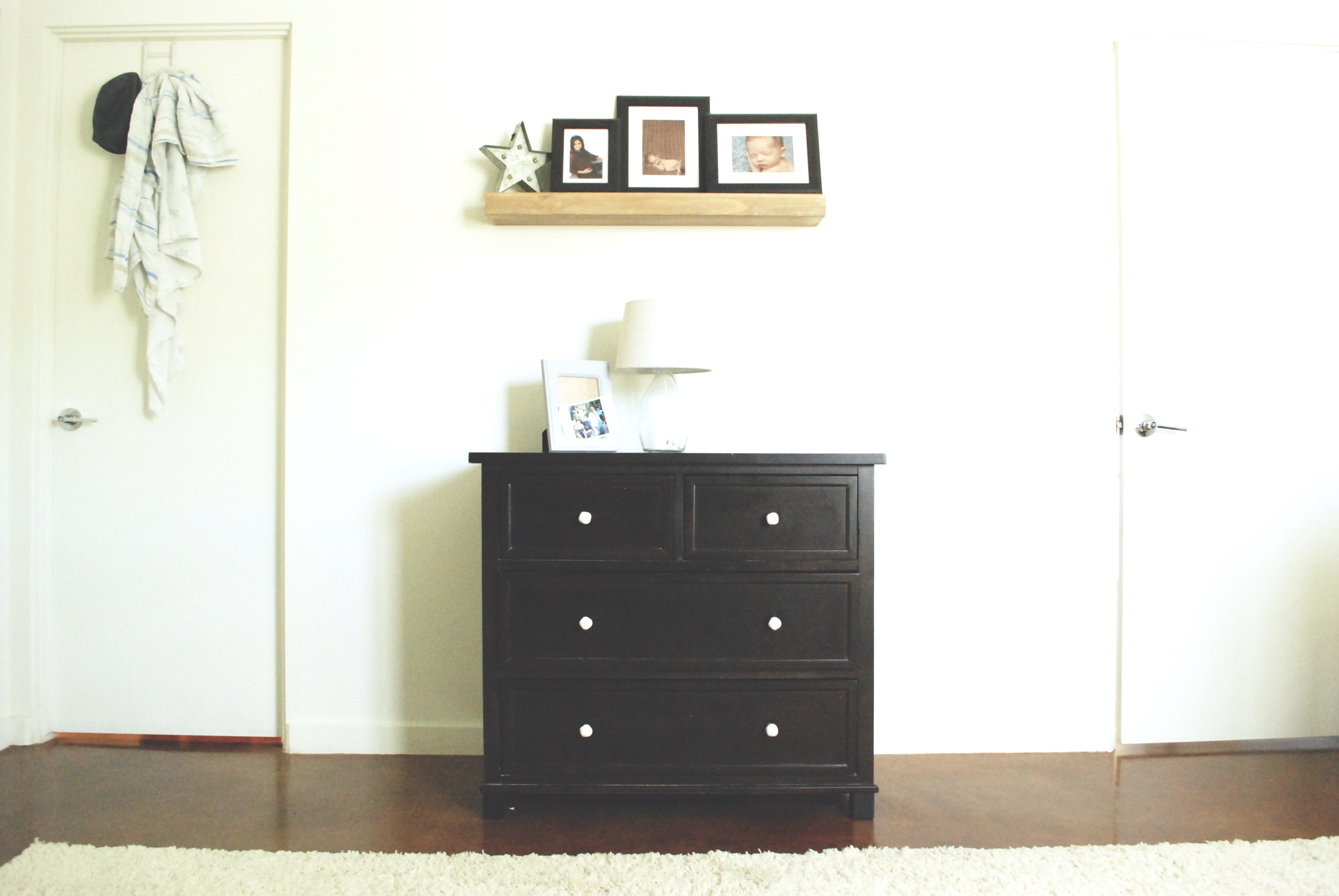 V's big boy room was the first room I completed since we moved in. Kind of like a band-aid, I knew I just had to rip that off fast. My original plan was to have a constellation/moon/modern theme and I decided to stick with it. I found the perfect color from Benjamin Moore which was appropriately and coincidentally named 'constellation'. It's beautiful and serene, just the way I want to remember my sweet J.
Next is our master bedroom. This room is sentimental to say the least and I chose the color theme to match sweet J's urn. I won't get into detail, but items on my nightstand own my heart and soul. We are still grieving the loss of our sweet J, so this is the perfect space for us to feel close to him in spirit. The wall color is Benjamin Moore Batik. It is peaceful and healing which is exactly what we need right now. I found the perfect dusty pink duvet from west elm to match.
All our married life we have slept in a queen bed, but now we are spoiled with this awesome king Tuft & Needle mattress (shameless plug for the hubby). Then I thought it needed a punch of masculine so I went with deep indigo accents. The framed pictures on the wall can all be found here in my blog. They are pics from our recent trip to Egypt. Also the beautiful wall hanging in the door way is a souvenir from Cairo. I didn't plan to match the colors to it, but it fits so well.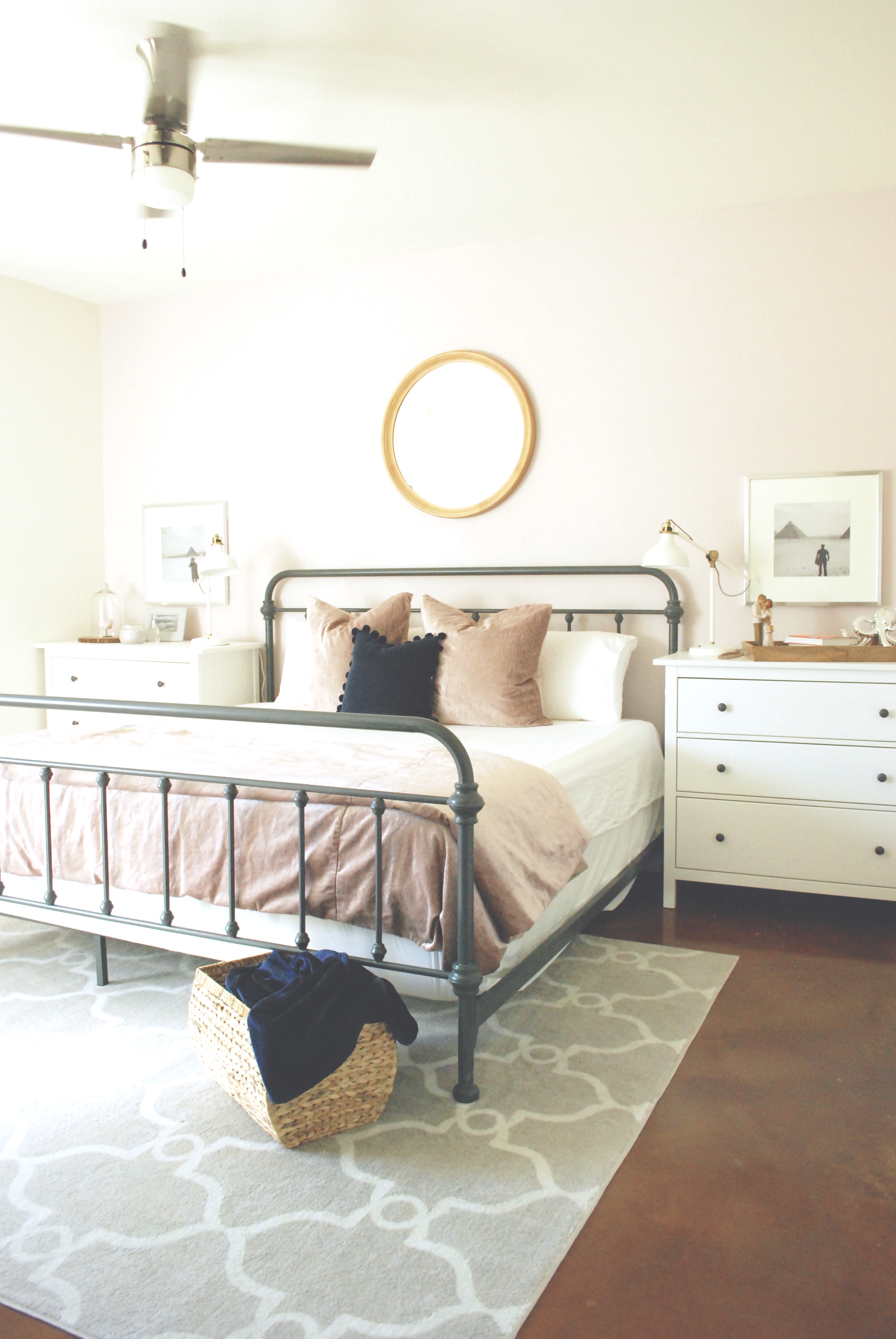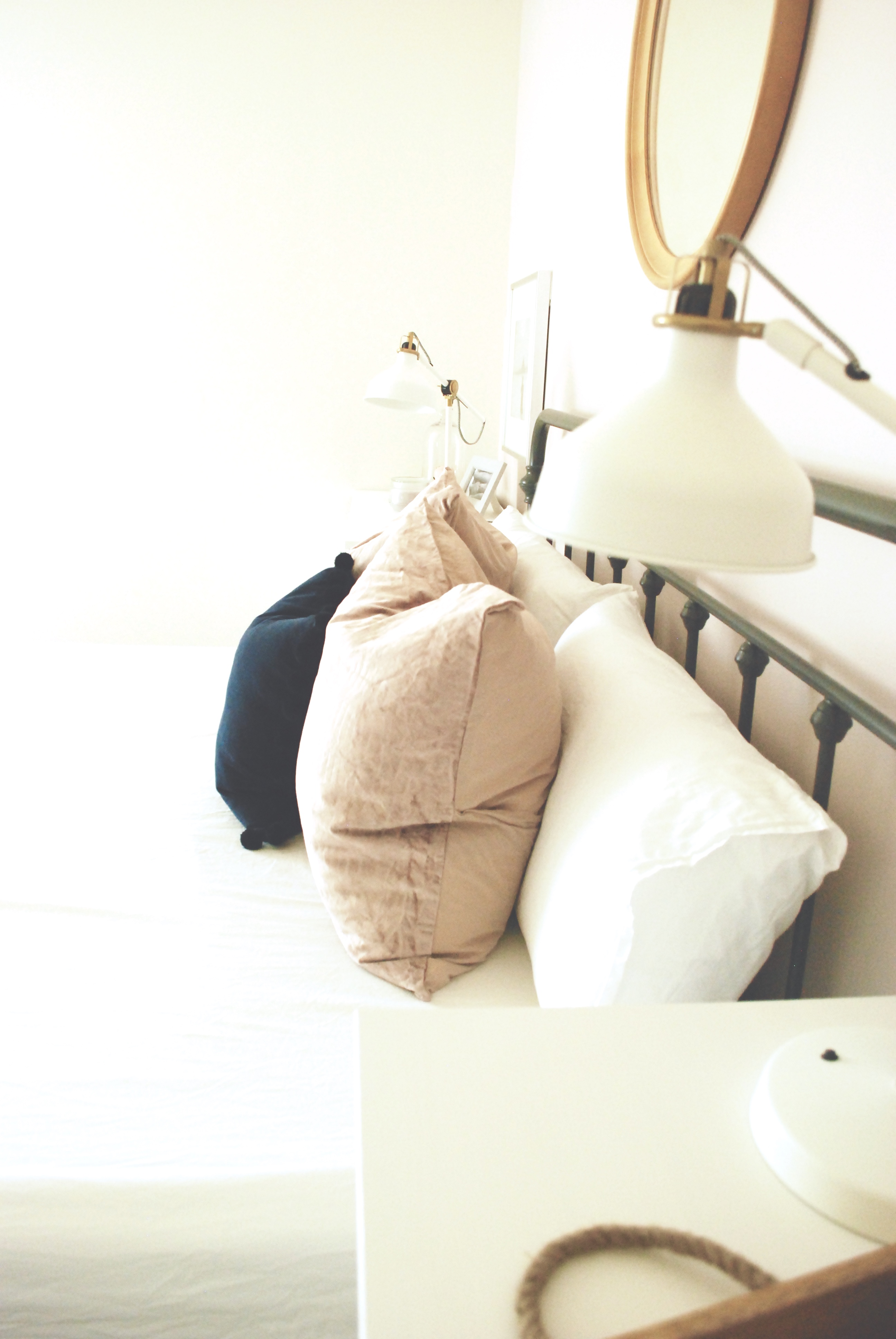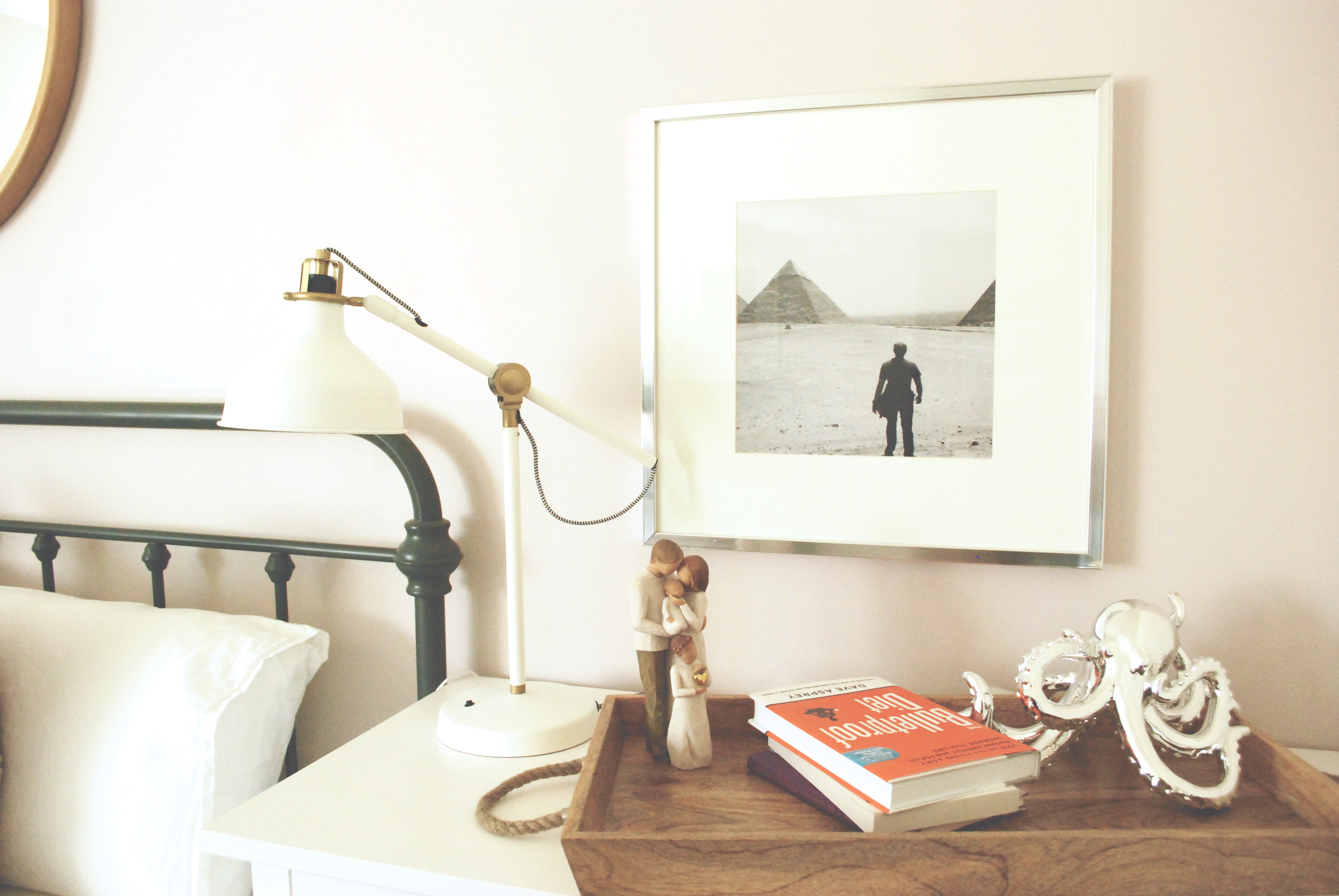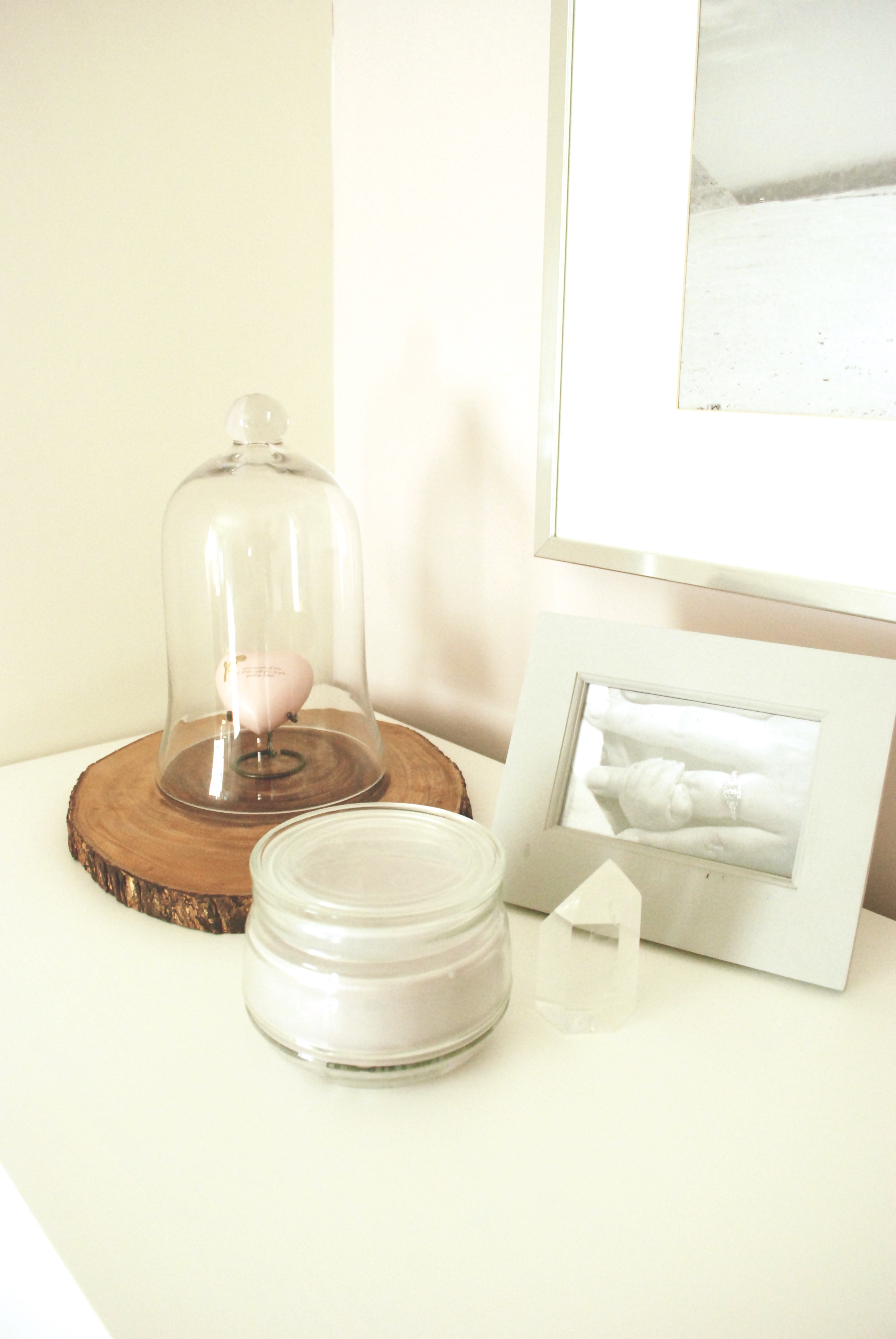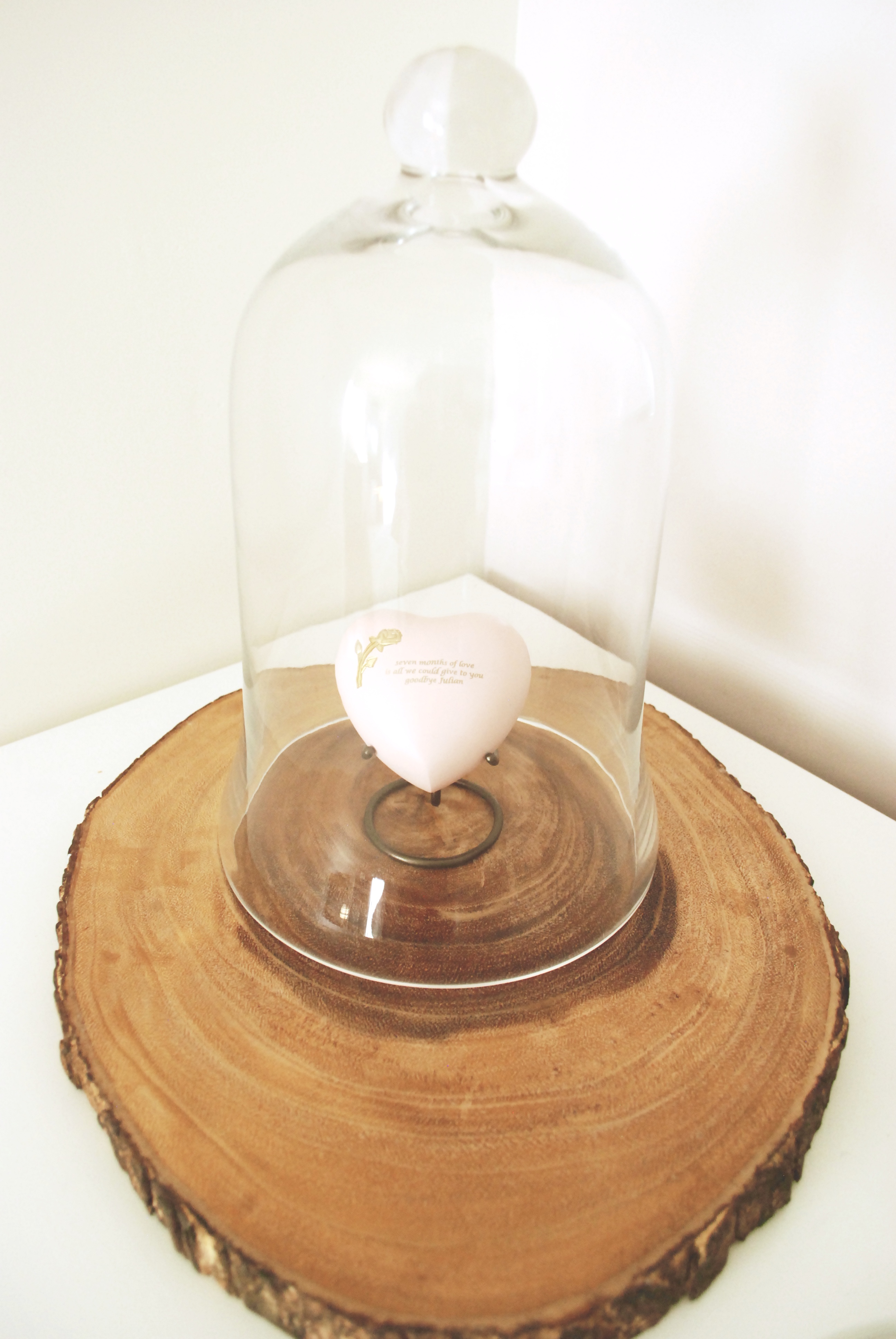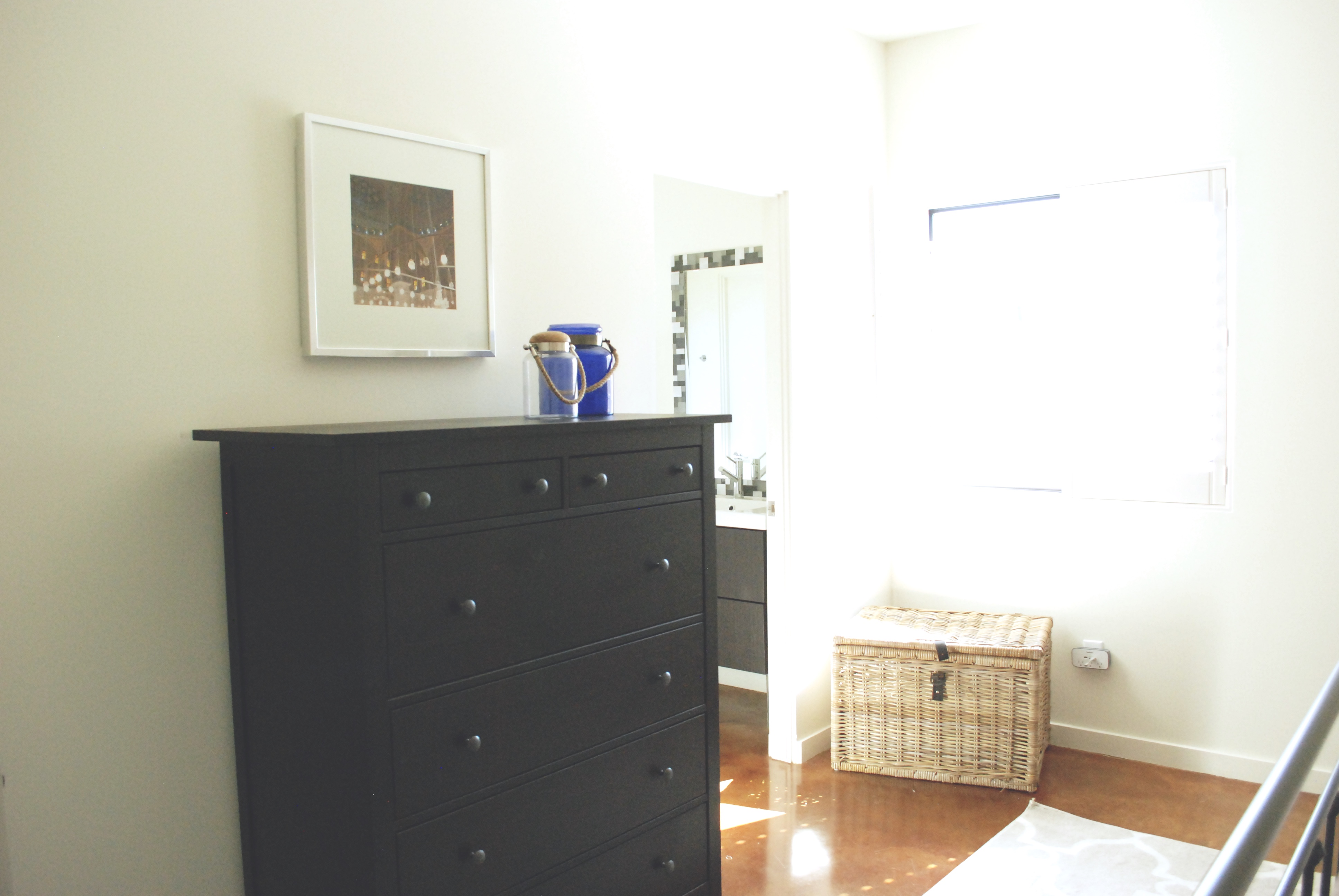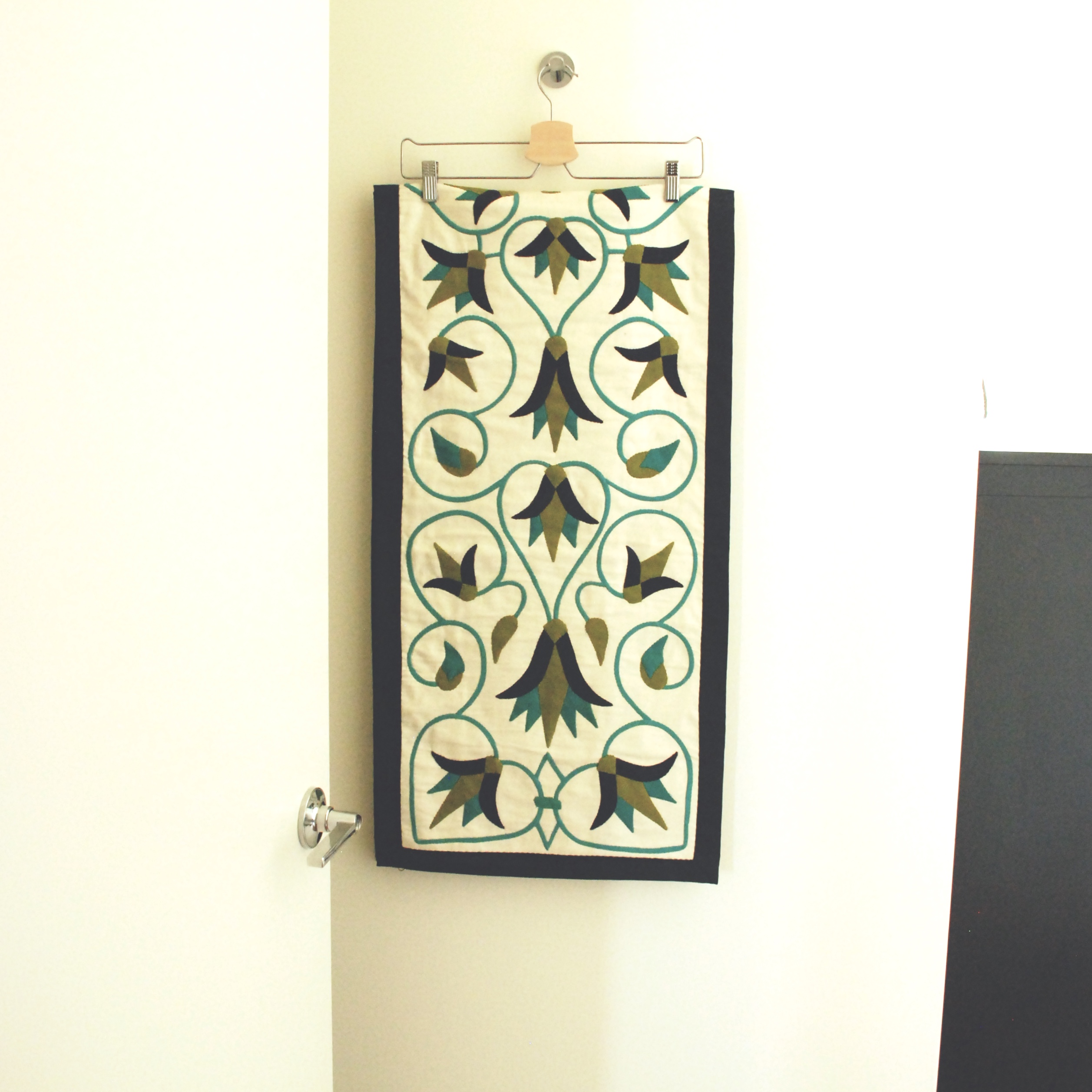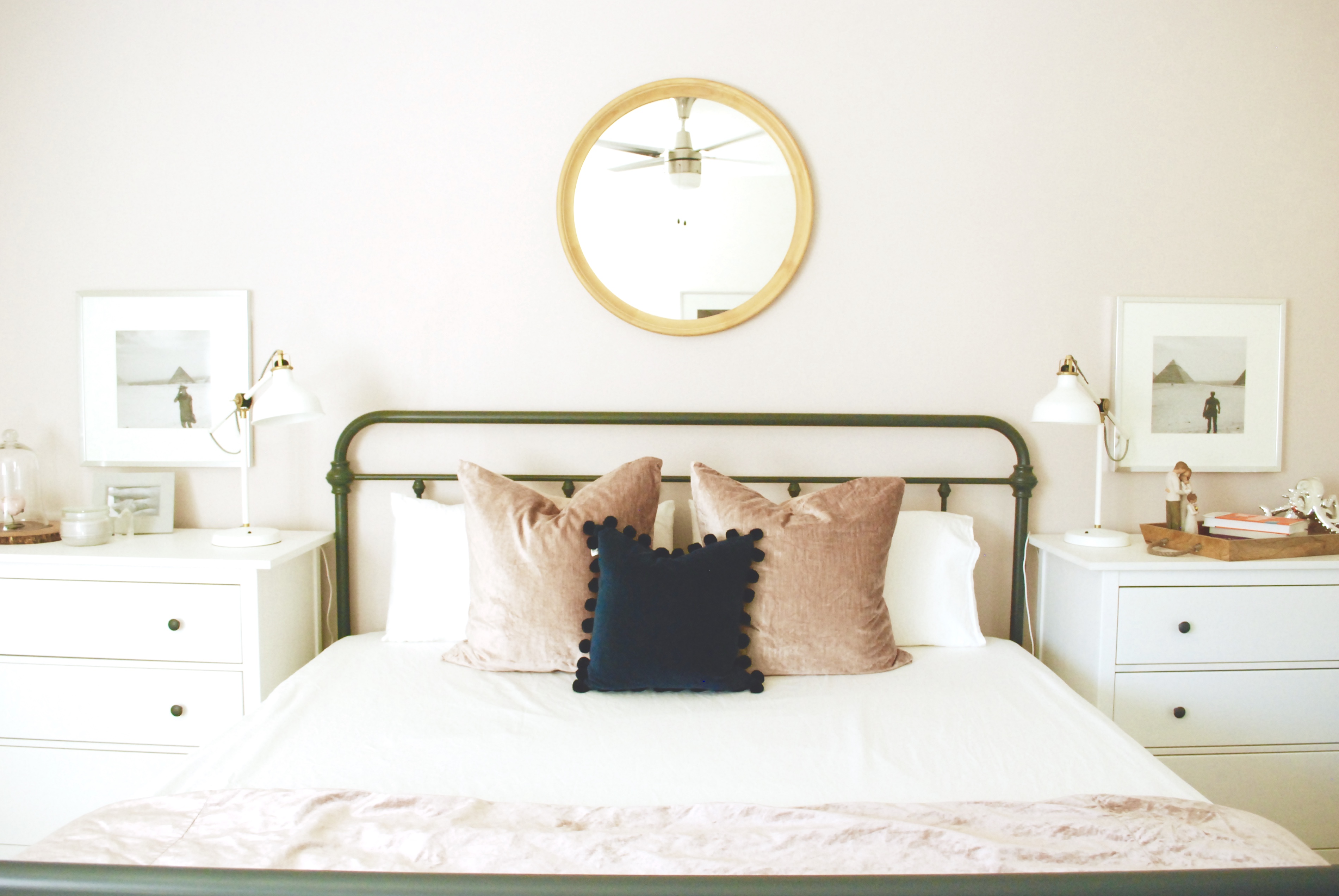 I can't take credit for the home gym since it was hubby who picked out most of the equipment. Most of it he ordered from Amazon and it has been such a blessing since we don't have to go to a subscription gym to do our squats. Squats is really all we do right now and it take us about 5-10 min each. Yes we work out 5 min a day which is more than we can ask for with a toddler running around the house who takes up most of our time and energy.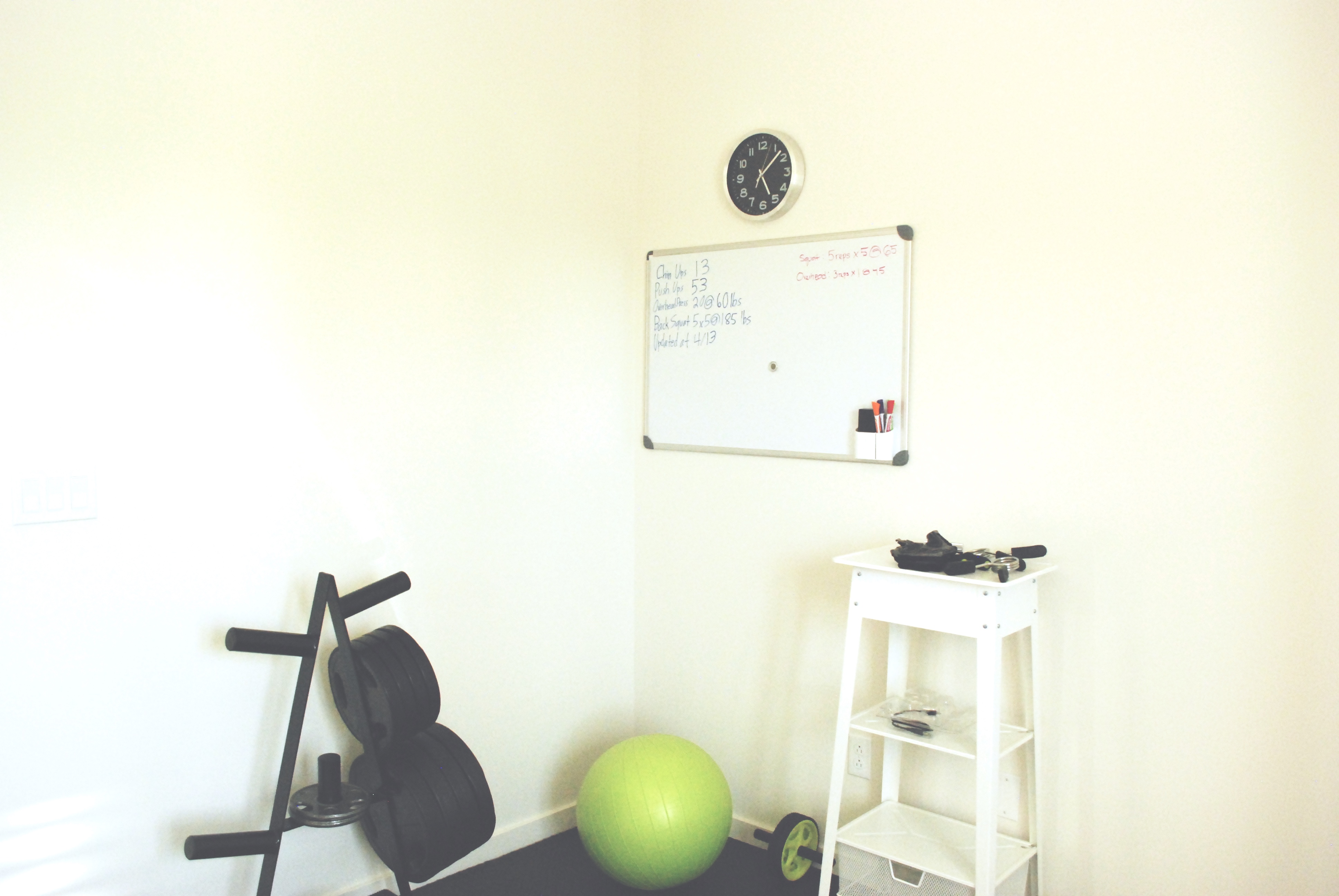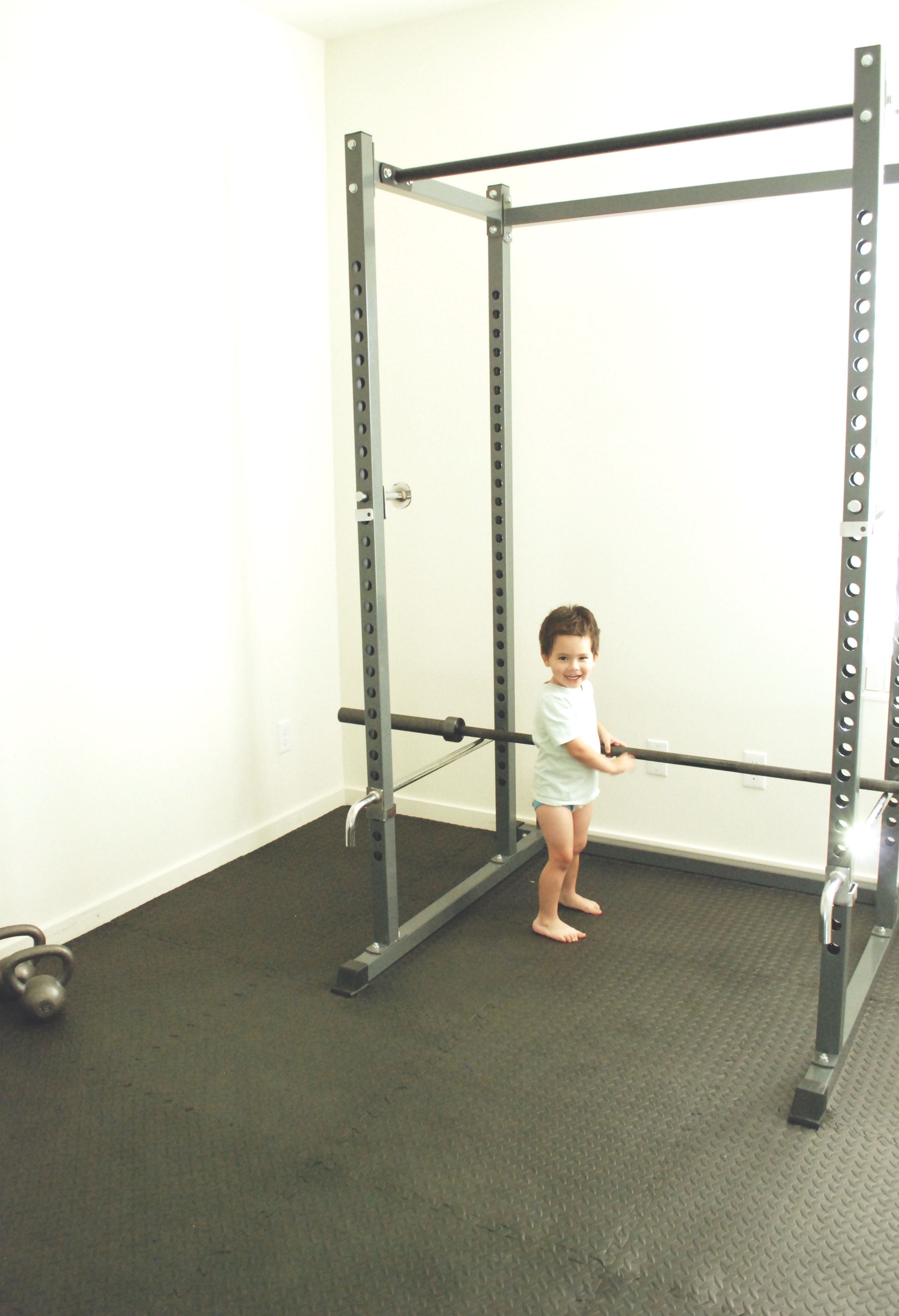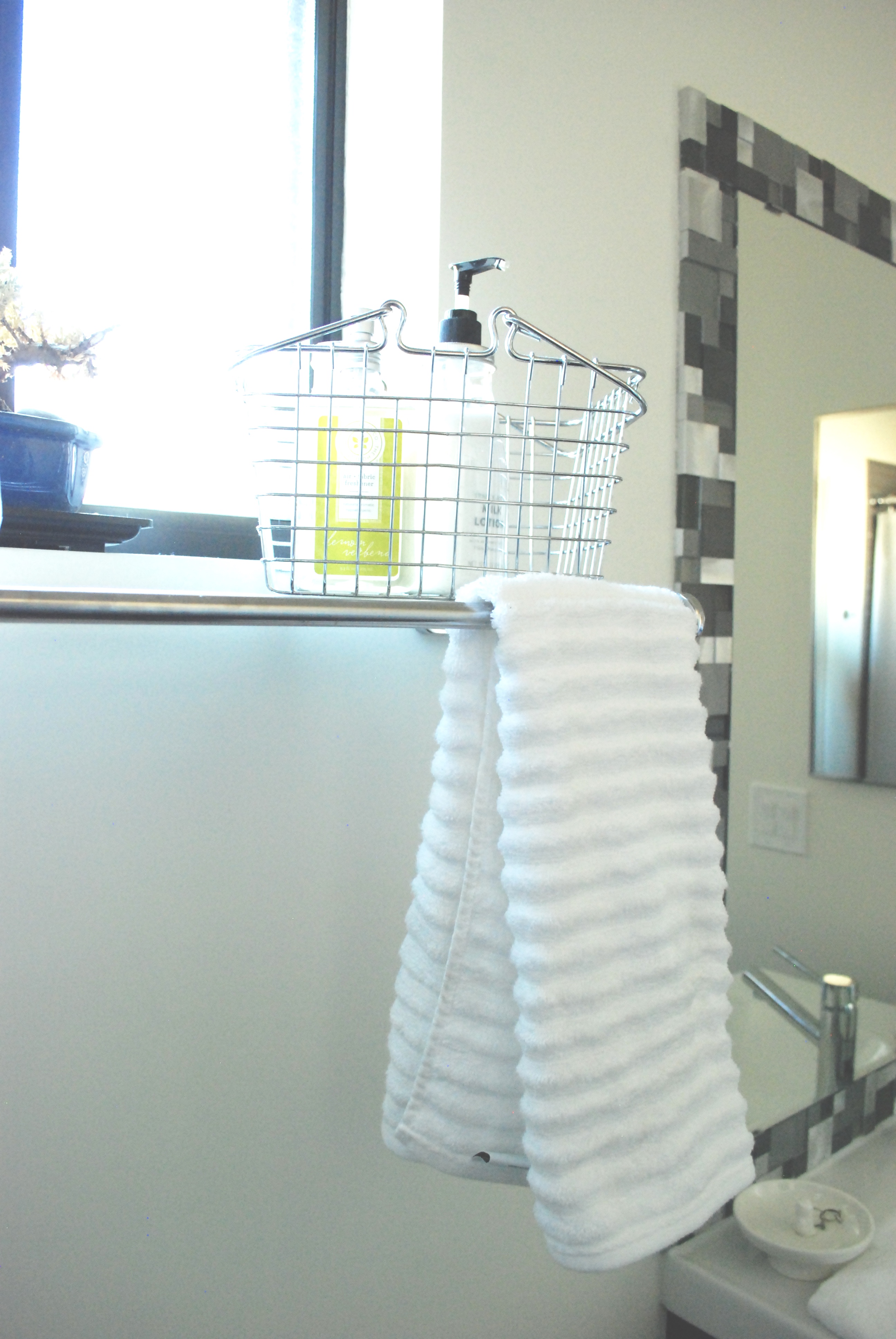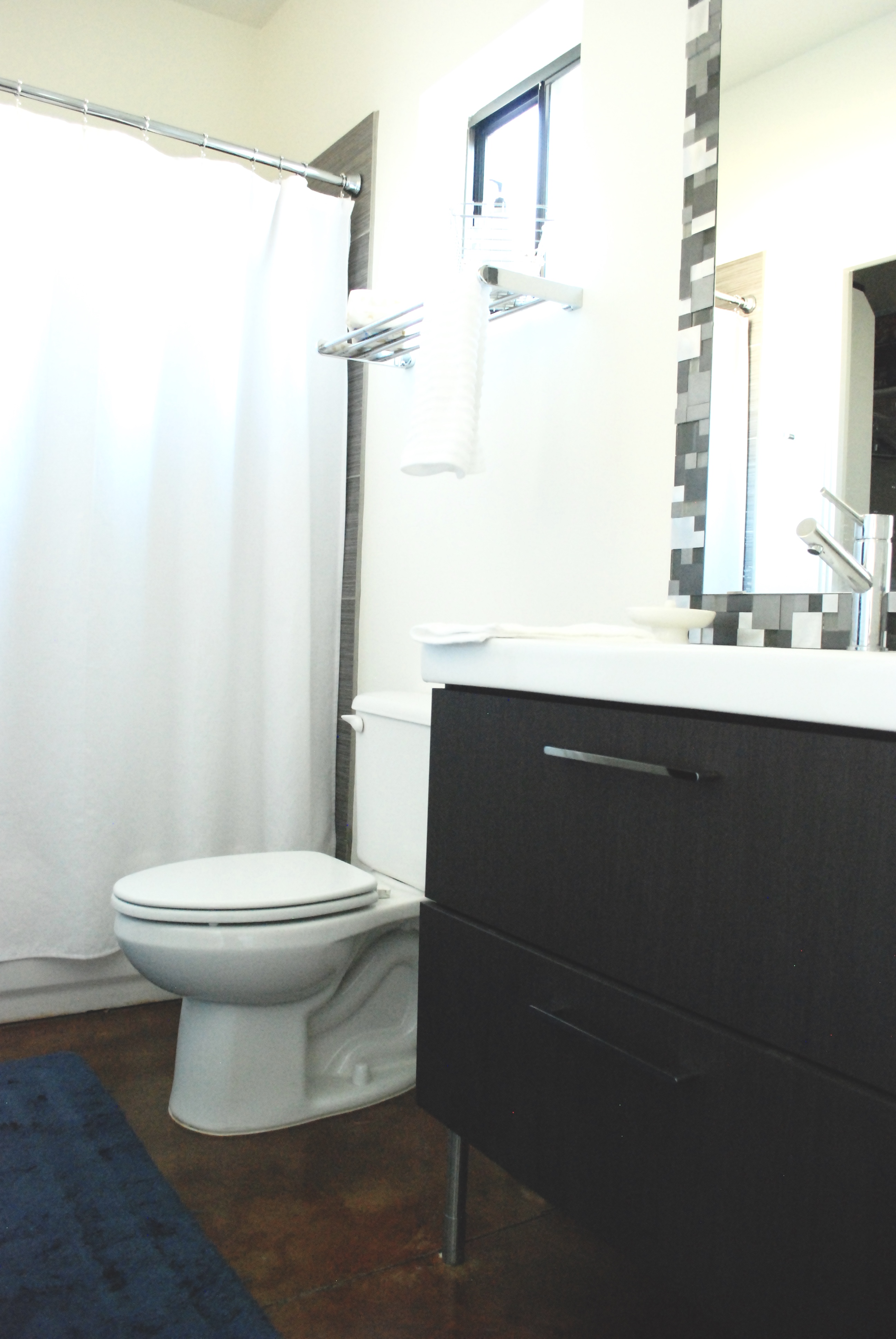 Of course our house doesn't always look like this but I do try to keep things tidy. I am actually a bit of a clutter Nazi so I try to have a home for everything. Toys have their home, books have their home, shoes and purses have their home. My style is more focused on organization and practicality that anything else. I absolutely hate nick knacks and I would chose a souvenir that is wearable or that can have a useful purpose in our home rather than just sit pretty. Pictures are valuable to me and you will find them in almost every room. Can't really say what style I strive for other than maybe modern
That's it for now. Come back and see the guest bedroom and laundry room soon. I'll try to add the front and back yard later as well. Thanks for reading ♥